Highlighted
Beginner
Mark as New

Bookmark

Subscribe

Mute

Email to a Friend
Cisco SG300 10 Routing Help
Hi Everyone
I need some help.
On my cisco switch/router i have created 4 vlans, using the below interfaces
192.168.1.254 if the ip address of the switch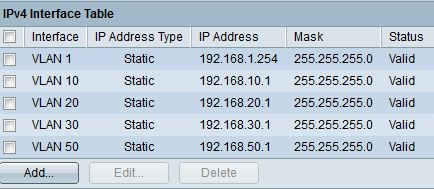 port 1 which is vlan1 is connected to my Netgear WDNR4500 Wirelss Router
The remain ports are connected to seperate network cards, on my VMWare Esxi host.
When i create VM's within each individual vlan communication is fine and i can ping vms on the different vlans,
My issue is i do not get any internet access from any device connected to the specified vlans, except for vlan1
If i ssh into my switch i am able to ping my isp's dns servers 194.168.4.100, but from all other vlans its not possible.
Not really sure what i have done wrong or what i need to get internet access for my vm's.
In my netgear router, which is 192.168.1.1 i have configured the following statis routes.
All vm's connected to the different vlan can ping 192.168.1.1, but it appears communication stops there, it cannot go beyond.
When i do a tracet from a vm connected to vlan 10, i get timeouts after it reaches 192.168.1.1
My laptop which is connected to 192.168.1 network is able to tracert beyong my router.
If anyone could help or provide some input, it would be appreciated.
Anymore information is required please let me know, i am a novice, hence why i am not sure how to resolve this issue.
Thank you all.
1 ACCEPTED SOLUTION
Highlighted
Advocate
Mark as New

Bookmark

Subscribe

Mute

Email to a Friend
Hi Jitesh, that is correct behavior. The default gateway need to be the vlan interface Ip address.
If vlan 20 is 192.168.20.1 then any machine connecting in vlan20 gateway should be 192.168.20.1
-Tom
Please mark answered for helpful posts
-Tom Please mark answered for helpful posts http://blogs.cisco.com/smallbusiness/