Beginner
Mark as New

Bookmark

Subscribe

Mute

Email to a Friend
Hi,
Let me preface this with the fact that networking is most definitely not my strong point, so any help here is greatly appreciated.
I am trying to segment out some virtual desktop infrastructure onto its own VLAN using a Cisco SF300-24 Layer 3 switch. I can get the switch to connect to the network with VLAN 1 assigned an IP on the network's subnet (192.168.16.X), but I can't get anything set up on VLAN 20 (192.168.20.X subnet) to connect past VLAN 20's gateway IP (192.168.20.254). The ports assigned to VLAN 20 are set to Access mode if that matters.
Here is a diagram to illustrate what it all looks like, since there is another switch (L2) involved.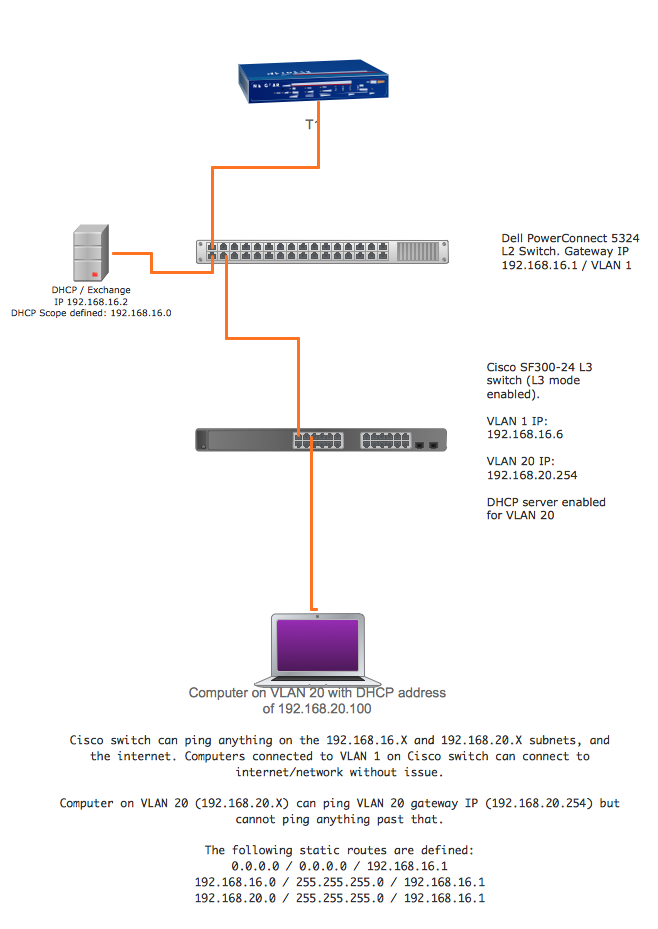 So I'm not really sure what I'm missing here since all the settings seem pretty straight forward.
1 ACCEPTED SOLUTION
Highlighted
Advocate
Mark as New

Bookmark

Subscribe

Mute

Email to a Friend
Hi Simon, I'd recommend you remove any active directory server and basically remove all security factors. This will give the idea of where to begin.
If you take a very fundamental set up, 2 window 7 desktops without a window firewall enabled, they will both work as expected.
You have to remember that in the firewalls, even if the devices are able to respond to ICMP if the request is coming from a different subnet they will not as it is recognized as a foreign network. You have to make this network known to these computers or make it so the computer doesn't care.
You may be able to accomplish this by simply adding additional subnets on the advance configuration of the network card (if this doesn't take up too much address space) as an example.
Or, as you have discovered you can add routes which is a bit cumbersome and inconvienent but effective.
-Tom
Please mark answered for helpful posts
-Tom Please mark answered for helpful posts http://blogs.cisco.com/smallbusiness/