Beginner
Mark as New

Bookmark

Subscribe

Mute

Email to a Friend
SG300 possible L3 redundancy design?
My current router is not vlan aware and without having to resort buying a new router and or new switches,
I would like to be able to leverage two switches running in L3 mode.
I have come up with the following possible design, I havent tested this idea yet, as it's just an idea at the moment.
It relies on being able to add redundant routes on the router with different metrics, one for each switch,
to allow for internet communication if either L3 switch goes down,
and should be leveraging the L3 on the switches route between each other and not the router for lan communication.
Any thoughts or suggestions on the following design would be greatly appreciated.
notes:
- external traffic from sg300 b goes out on 10.2 but returns on sg300 b 10.1 if both sg300's are up
(one could switch the metric on 192.168.30.0 gateways on the router,
to seprate the internet traffic paths for each subnet, one for each of the sg300's)
- dhcp would need seperate scopes per subnet, one on each sg300's, in case one sg300 was down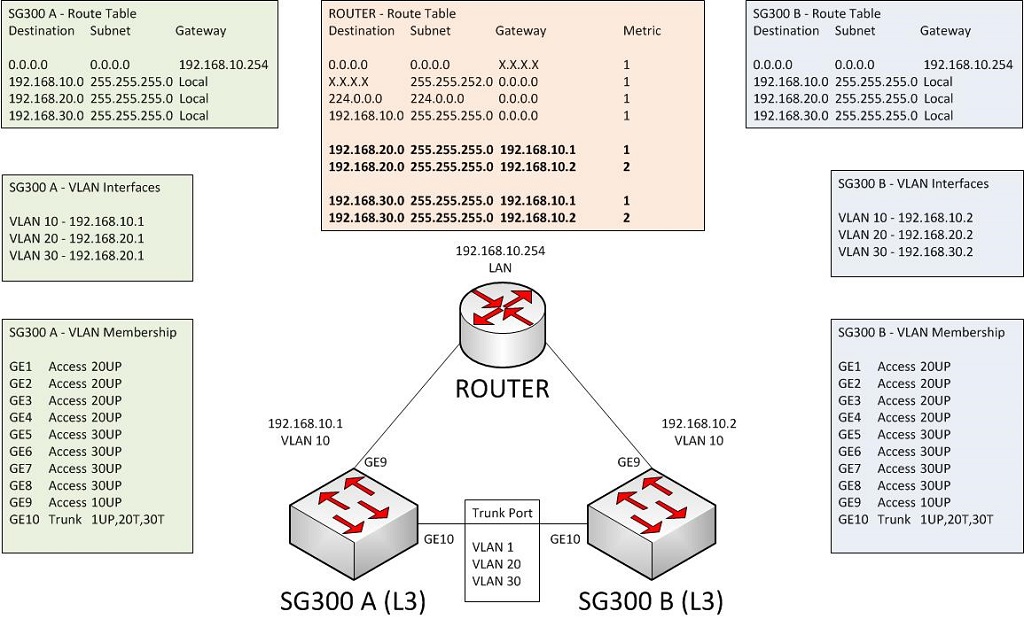 Beginner
Mark as New

Bookmark

Subscribe

Mute

Email to a Friend
I think this will be the only viable option with this hardware (no stacking or HSRP / VRRP).
The router however should not perform strict reverse path forwarding checks, as you noted assymetric routing occurs on the B switch when both are up.
Regarding DHCP you could also use a Windows or Linux ISC DHCP server and configure dhcp relay on both switches.
Beginner
Mark as New

Bookmark

Subscribe

Mute

Email to a Friend
Thanks for taking the time to look at this and making some suggestions.
I have been doing some further research and stumbled across this article.
Unicast flooding due to asymmetric routing
http://www.ciscozine.com/unicast-flooding-due-to-asymmetric-routing/
One of the suggestions in that article to help with it was this:
"Change the ARP timeout and the forwarding table-aging time close to each other to limit the length of unicast flooding. This will cause the ARP packets to be broadcast. Relearning must occur before the L2 forwarding table entry ages out"
On the SG300, I see the following defulat settings for MAC and ARP aging.
MAC Aging Time

:

300

(Range: 10 - 630, Default: 300)

ARP Entry Age Out

: 60000

(Range: 1 - 40000000, Default: 60000)
It looks like I would be limited to using 630 seconds on these settings
I am now looking into the ramifications of doing that.
Beginner
Mark as New

Bookmark

Subscribe

Mute

Email to a Friend
Just wondering if you found the way to make the redundant route work out?