Beginner
Mark as New

Bookmark

Subscribe

Mute

Email to a Friend
Cisco 8851 IP Phone Set Up
We are looking to install the Cisco 8851 IP Phone (CP-8851-3PCC-K9=) in a home office. The IP line is already up and running. The screen on the phone says, "network connection failure". Our IT help said we probably need a provisional URL, but the phone/internet provider says that should come from Cisco. Any suggestions to complete the installation?
Advocate
Mark as New

Bookmark

Subscribe

Mute

Email to a Friend
This phone has been sold to you by your VoIP operator ? And he claims the provisioning should come from Cisco ?
Then you bough RC/OEM kind of phone. RC units are configured automatically once connected to network.
Just to make sure, verify you have this flavor of phone - read "View Customization State Through the Phone GUI" of this article
Value of the "Customization" should be "Custom-Pending":
.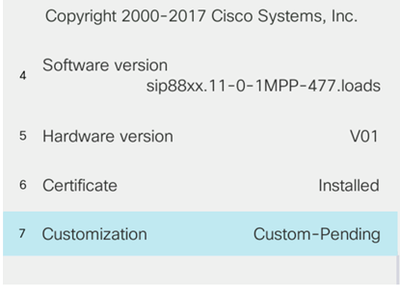 Assuming you have RC unit ...
Network connection failure may mean the phone is unable to resolve DNS names or it's unable to connect. Capture network communication of the phone - it will disclose you what's failing.
See also:
Remote Customization (RC) Distribution
VIP Community Legend
Mark as New

Bookmark

Subscribe

Mute

Email to a Friend
Cisco Employee
Mark as New

Bookmark

Subscribe

Mute

Email to a Friend
Hi Lesley,
A couple of observations:
- the phone is running an old firmware (not the cause of "no network" but makes sense to upgrade), the latest is now 11.2.3
- a provisioning url is always provided by the provider, we (Cisco) can provide redirect services for the provider so the phone once its boots and is factory default will contact our redirect service (also called EDOS). If the phone is known by us for a specific provider we send a bootstrap xml file containing (but not limited to) a provisioning url of the provider. This file is controlled by the provider as we don't know where he wants to provision the phone.
- a provisioning file can consist of a single file or multiple files to configure the phone with the specific provider setting, your SIP account settings etc
Now getting your phone operational::
- reset the phone to factory default (settings > administrative settings > factory reset)
- phone clears all config and reboots
- wait 1-2 minutes after reboot to see if the phone contacted EDOS to get this provisioning url or we need to move to enter the details manually
- if the phone still doesn't get a IP address using DHCP you can go to settings and enter manual an IPv4 address
- use a web browser to connect to http://ip_phone/admin/advanced
- if the provider can give you the url pointing to your provisioning file then enter it at: voice > provisioning > profile rule
or
- go to voice > ext 1 > enter the SIP credentials provided to you (proxy, outbound proxy, userid and password)
This is normally enough to get the phone up and running although some providers have extra services like: voice mail, address books, etc

If you go to cisco.com and search for "8800 multi platform phones"then in the documentation section you will see the latest admin guide to assist