Highlighted
Beginner
Mark as New

Bookmark

Subscribe

Mute

Email to a Friend
2nd VLAN for Guest Wifi set up using CISCO WAP5621, CISCO SG300, CISCO RV320 but no IP Address picked up on Guest Wifi

WAP561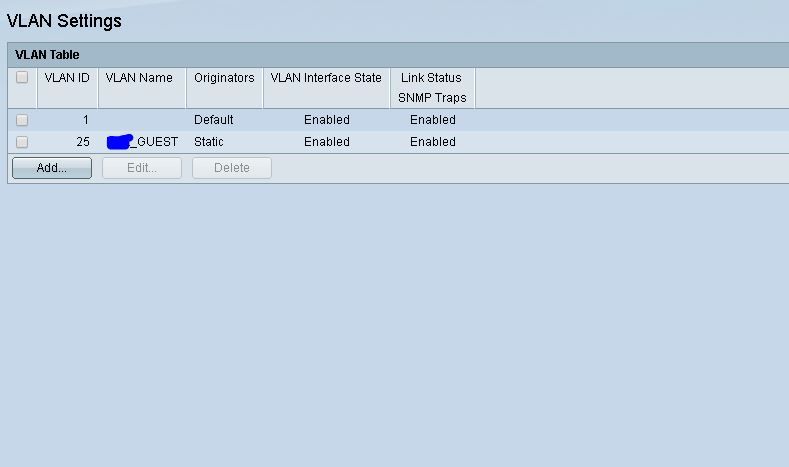 SG300 VLAN Settings
RV320 VLAN Membership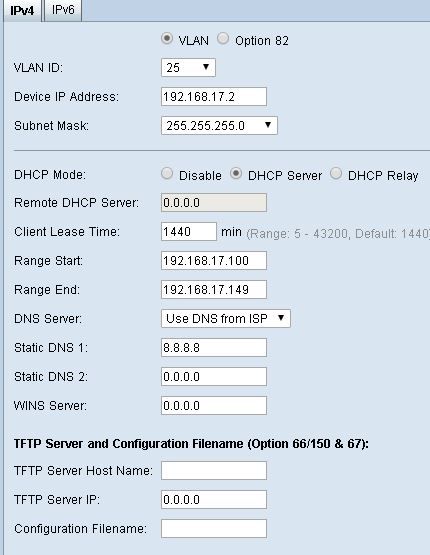 RV320 DHCP Scope
Highlighted

Beginner
Mark as New

Bookmark

Subscribe

Mute

Email to a Friend
Hello,
My name is Jonathan and I am part of Small Business here at Cisco.
I apologize for any inconvenience with this unit, please let me know the following.
-Have you checked the configuration on the port of the SG300 the settings should be the same as in the RV320 meaning that you need a trunk port passing the traffic from the router to the switch and then to the AP.

-If the configuration is a trunk port then, please let me know if by plugging a computer to the same port on the switch you get an ip from vlan 1 if yes, then please try to put the same port to have vlan 25 as untagged and test if you get the correct segment on the computer, this is to isolate the issue and check where the problem resides.
-If the switch is not providing an IP address to the computer for vlan 25 please connect the computer directly to the rv320 and test the same.
-If you did the steps above please check the firmware version on all of the units and make sure they have the latest update.
-If you keep having issues, feel free to open a case with us so that we can take a look directly.
Thanks.