Beginner
Mark as New

Bookmark

Subscribe

Mute

Email to a Friend
1700 series router is restarting
In my company 1700 series router. I connact it with pc with console but it restrting after complete IOS loading. tell me how to troubleshoot it.
Cisco Employee
Mark as New

Bookmark

Subscribe

Mute

Email to a Friend
Hi Vishal,
The router could be rebooting continuously due to any of the several reasons. It may be crashing, the reason for which can be found out by checking the crashinfo files. It could be due to some mismatch in the IOS requirements and the available memory resources. However, to troubleshoot it, we need to first get the router booted up properly. Here the are steps you can follow to achieve that :
Keep tapping 'ctrl' + 'Pause\Break' key while the router is booting up, so that the router will boot up in ROMMON mode.
Once in ROMMON mode, type the 'confreg 0x2142' command. This will set the value of configuration register on the router to ignore 'NVRAM' while booting up.
Then issue the 'reset' command to reboot the router.
This time, the router will bootup without loading the 'startup config'.
It will ask if you wish to enter the 'initial configuration dialog box' ...type 'no' and press enter.
Next, enter privilege mode and copy the startup config over running config using 'copy start run'. <- Make sure you don't type it the other way round or you'll lose your configuration permanently.

Next, change the value of config register back to default using the global mode command 'config-register 0x2102'.

Save

the config using 'write memory'.
Now, we have successfully booted-up the router and can start looking for the reason behind the continuous restart issue.
Check for the memory requirements of the IOS installed on the router (can be checked at IOS download page at Cisco.com) and make sure you've enough memory on the device.
You can also check the flash to see if there are any crashinfo files, using "dir flash:" command.
Regards,
Pawan
If this post answers your question, please click the "Correct Answer" button.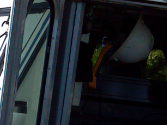 Beginner
Mark as New

Bookmark

Subscribe

Mute

Email to a Friend
Hello
Student learn how to use 1700 series router for beginner lab laptop I have is a old Compaq Armada E500 that works using telnet for the router. problem is the unit says Router con0 is now available press return to get started next line says aug 5 09:05:07:839 %PQUICC _ETHER -1-LOSTCARR: Unit 0,Lost carrier Transceive how do fix this problem I want to use the for A&TT internet so I can learn how to use 1700 series router for learning at home use. looking for help.
thank you.