Highlighted
Beginner
Mark as New

Bookmark

Subscribe

Mute

Email to a Friend
Hi.
I'm having difficulty getting a router/L2L VPN scenario to work. I'm not quite sure that it's possible to do what I want to do, but after reading up on OSPF all day I don't see why.
Site A:
ISP has a 1812 router that have two interfaces at my service. FA1 where I get internet access and FA2 where I get access to a few other services they provide me with.
I have a 1811 router that I have connected aganst the ISP router. My FA0 -> ISP FA1 and my FA1 -> ISP FA2. Now I have configured my router so that I can communicate with both internet and I can ping the ISP "service" interface (172.16.3.241).
Site B:
I have a ASA5520 connected to another ISP and I have configured a L2L tunnel between the ASA and my 1811 at Site A.The L2L communiction works just fine. All the networks at Site B that are suppose to be abel to communicate with my router at Site A can do this without any problems.
Now, my goal here is to be able to communicate with networks on the "service" network at Site A from network at Site B. So fare so god.
Now, the ISP at site A want me to advertise my networks using OSPF, and here is where it all stops. I can't seem to get this to work. I have the following configuration in my router at Site A
interface FastEthernet0
description Uplink to ISP WAN connection
ip address 213.xx.xxx.xx2 255.255.xxx.xxx
ip access-group 102 in
no ip route-cache
duplex auto
speed auto
crypto map xxxxx-xxxxx-xxxxx
!
interface FastEthernet1
description Uplink to ISP BusinessTrunk connection
ip address 172.16.3.241 255.255.255.248
duplex auto
speed auto
router ospf 1
router-id 172.16.3.242
max-metric router-lsa
redistribute static subnets
network 172.16.3.240 0.0.0.7 area 0
network 172.16.21.0 0.0.0.255 area 0
network 172.16.52.0 0.0.0.255 area 0
ip route 0.0.0.0 0.0.0.0 213.xxx.xxx.xx1
The 172.16.52.0/24 and 172.16.21.0/24 are networks at the Site B. Right now I can't ping 172.16.3.242 from for example network 172.16.21.0, and the router it self can't ping anything beyond the 172.16.3.242. I do how ever see advertisments from the ISP if I do "sh ip ospf database", but my router dosen't seem to advertise my networks to the ISP's "service" network.
What do I miss here?
Best regards,
Johan Christensson
1 ACCEPTED SOLUTION
Highlighted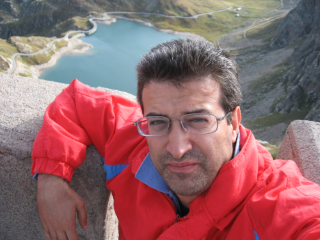 Hall of Fame Master
Mark as New

Bookmark

Subscribe

Mute

Email to a Friend
Hello Johan,
the direct link between Site A router and ISP router is not external so this explains why the first output is empty.
As I wrote before you should check if OSPF external routes for Site B IP subnets are generated on the Site A router or not.
you can use the commands that I had suggested before
show ip ospf database external 172.16.52.0
show ip ospf database external 172.16.21.0
I'm afraid both commands have empty output and here comes the issue.
From the point of view of Site A router that has crypto map applied to Fas0 interface you should add two static routes like
ip route 172.16.21.0 255.255.255.0 fas0 ( or use the ISP next-hop on fas0= 213.x.x.241 )
ip route 172.16.52.0 255.255.255.0 fas0
(or use the ISP next-hop on fas0= 213.x.x.241 it is better)
ip route 172.16.21.0 255.255.255.0 213.x.x.241
ip route 172.16.52.0 255.255.255.0 213.x.x.241
This should give the static routes we need and should allow to advertise the IP subnets in OSPF as external routes
Actually I see only a static default route in your router and this will not be injected in OSPF domain ( redistribute static does not work for default route when redistributing into OSPF)
Hope to help
Giuseppe