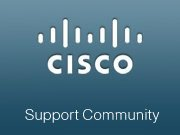 Community Manager
Mark as New

Bookmark

Subscribe

Mute

Email to a Friend
Ask the Expert:New Campus Segmentation Technology using Cisco Easy Virtual Network (EVN)
With Rahul Kachalia
Welcome to the Cisco Support Community Ask the Expert conversation.This is an opportunity to learn and ask questions about the Cisco Easy Virtual Network (EVN) solution with Cisco expert Rahul Kachalia. Network virtualization is common technique to multiple logical networks over single physical network infrastructure. Virtual networks builds isolated routing and switching paths between different closed-user groups, secured IT managed devices, regulatory and compliance systems. The new Cisco Easy Virtual Network (EVN) solution simplifies deployment to provide end-to-end network virtualization in Enterprise Campus. EVN enables possibility to build multiple virtual networks over common network infrastructure. EVN is developed based on industry standard and builds on the existing IP-based virtualization mechanism known as Multi-VRF or VRF-lite. EVN provides enhancements in path isolation, simplified configuration and management, and improved shared service support. EVN provides compatibility and interworking solution to work with remote devices running Multi-VRF or MPLS based virtual network solution
Rahul Kachalia is a technical marketing engineer in the Architecture and Strategy Unit at Cisco. He helps create guidance to design and deploy Borderless Network technology for large enterprise networks. He has more than 15 years of experience with enterprise, service provider, and public-sector customers focusing on next-generation network architecture design. At Cisco he has led many initiative focused on enterprise and service provider broadband, MPLS, VPN, and managed services. He also has helped to build the Service Ready Architecture for 21st century networks for educational institutions. Kachalia holds CCNA, CCNP, MCSE, MCP, CNE, and CCIE certifications (#11740 Routing & Switching and Service Provider).
Remember to use the rating system to let Rahul know if you have received an adequate response.
Rahul might not be able to answer each question due to the volume expected during this event. Remember that you can continue the conversation on the Service Providers sub-community discussion forum shortly after the event. This event lasts through through August 10, 2012. Visit this forum often to view responses to your questions and the questions of other community members.