Highlighted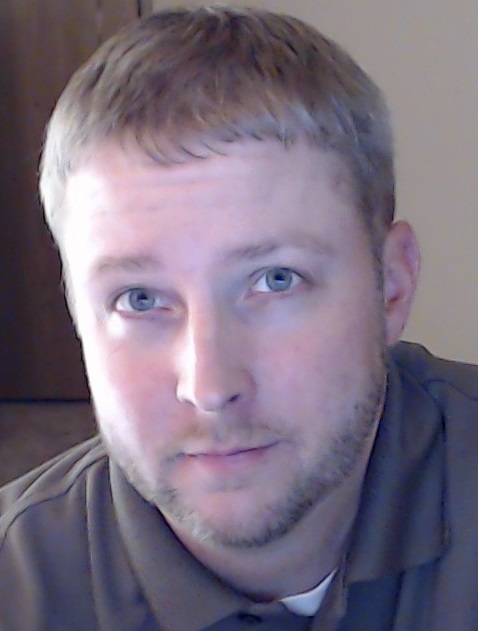 Beginner
Mark as New

Bookmark

Subscribe

Mute

Email to a Friend
HSRP-FHRP Isolation in OTV... Is there any risk in this design?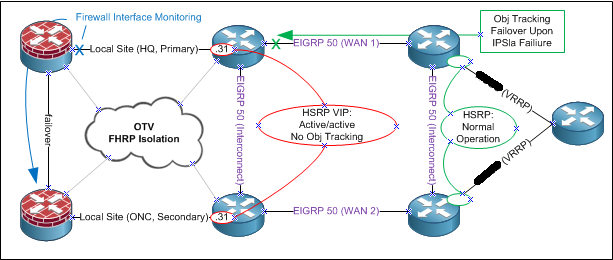 Hello,
I had this architecture tested and working well in a lab, but I neglected that our production environment leverages OTV. This apparently changed the nature of my HSRP configurations, identified in red. I originally had object-tracking set up on those two routers, but now with the realization that FHRP isolation will not allow advertisement of HSRP hellos between the peers, I am forced to decide if this architecture is still tenable?
The above diagram represents my new thoughts on this connectivity. To explain, there are two firewalls in a failover pair connected over an OTV vlan, and two point-to-point circuits (WAN 1, WAN 2) where the the four routers in the middle form an EIGRP process. The red HSRP group was initially going to operate normally, but now I have active/active due to this FHRP isolation.
I cannot find any reason why this would not work. I also cannot find any common failure scenario where this would introduce significant risk. This new design may introduce a few more asymmetric routing scenarios than the first iteration, but I don't think that's the end of the world considering a fix for a broken link or down P2P circuit is usually only a few hours out.
Can anyone find fault with this solution? Please let me know if you need any more information about this setup. Thanks.
Jeff
VIP Expert
Mark as New

Bookmark

Subscribe

Mute

Email to a Friend
Jeff,I am not familiar with
Jeff,
I am not familiar with FHRP isolation and OTV, but from what I can tell your design should work fine. Without HSRP, both routers are active and so ether one of the routers on the left will forward traffic to either one of the routers on the right using EIGRP.
HTH