Highlighted

Beginner
Mark as New

Bookmark

Subscribe

Mute

Email to a Friend
Need some help with N7K vPC
Hi, I had some trouble while deploying vPC and here is my network topology: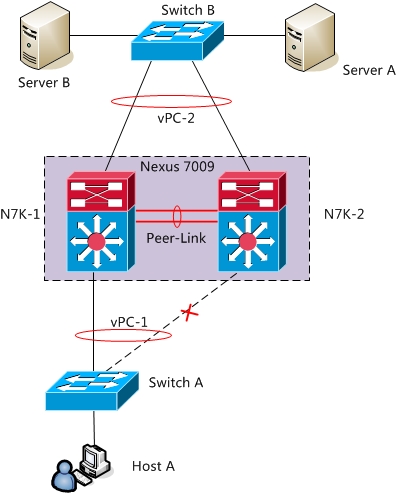 I have two nexus 7009 as core switch, both of them are vPC enable and vPC adjacency formed ok.
The switch-B (2960-S) dual-home to two n7k, the uplink ports are config as normal port-channel on 2960 and vPC on N7K. While I connecting a PC on either N7k-1 or N7K-2 and accessing to server A or server B , everthing works fine.
After that I have a access switch (switch-A) dual-home to two n7k, and the uplink ports are config same as the switch-B, the host-A can accsee both server behind switch-B.
but for some reason, the link toward to the n7k-2 was removed. Since that the host behind the switch-A accessing the server which behind the switch-B seems unusual. some of them can access all server but some of them cannot!
While I show ip arp on both n7k, I found that arp table are not sync. for some client , I can ping it either on n7k-1 or n7k-2. When I try to ping those client on server, and debuging ip packet on two n7k, the switch-B choose n7k-2 as next hop ( base on hash algorithm), I can get debuging message on n7k-2 but not on n7k-1, it seems that n7k-2 not passing that packet to n7k-1 or n7k-1 drop that packet? So I try the same action on other server, this time the switch-B choose the n7k-1 as the next hop and I get debuging message on n7k-1, the server can also get ICMP relay.
The same thing happen while client acquiring IP using core-switch as dhcp-relay, some client can't receive the DHCP offer, but I actually capture the DHCP discover & offer packet on the DHCP server! I was totally confused……
Can somebody tell me why that happen? and how to fix it?
Here is the port-channel config:
interface port-channel 2

  description To_Server_Switch

  switchport

  switchport mode trunk

  vpc 2




interface port-channel1

  description To_Access-switch

  switchport

  switchport mode trunk

  storm-control broadcast level 40.00

  vpc 1
Here is show vpc output
vPC domain id                     : 10  

Peer status                       : peer adjacency formed ok      

vPC keep-alive status             : peer is alive                 

Configuration consistency status  : success 

Per-vlan consistency status       : success                       

Type-2 consistency status         : success 

vPC role                          : primary                       

Number of vPCs configured         : 31  

Peer Gateway                      : Enabled

Peer gateway excluded VLANs       : -

Dual-active excluded VLANs        : -

Graceful Consistency Check        : Enabled

Auto-recovery status              : Enabled (timeout = 240 seconds)

show vpc output

vPC status

----------------------------------------------------------------------

id   Port   Status Consistency Reason                     Active vlans

 -- ----------- ------                     ------------

1    Po1    up     success     success                    1,5-37,41-5

2    Po2    up     success     success                    1,5-37,41-5