Highlighted
Beginner
Mark as New

Bookmark

Subscribe

Mute

Email to a Friend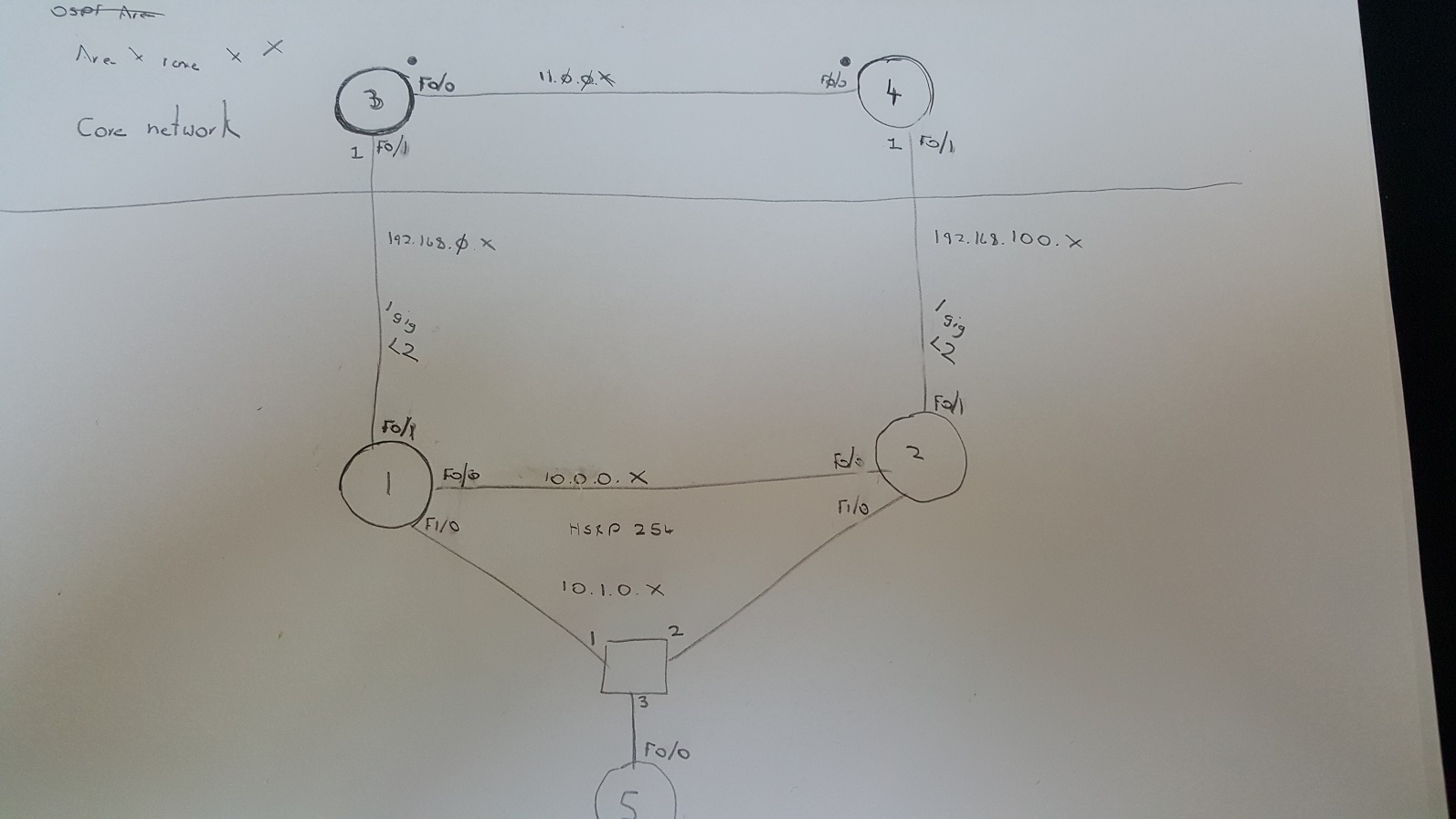 Hi,
Food for though this one for me. We have a core network (Routers 3 / 4) which are running EIGRP and I need to hook in a new site using 2x1 l2 circuits and use OSPF. So router 3 is connected to router 1 and Router 4 to router 2. I want to run ospf from 3/4 to 1/2 for site resilience and favour link 3 to 1. I want sites 1/2 only to receive a default route to get the traffic back to the core, and also want site 3/4 to receive a simple /16 route. My current design has area 0 between 3/4, then area 1 between 3/1, 4/2, and 1/2. Link 4/2 has a cost of 1000 on both interfaces. However in this setup there is some interesting behavour. Router 4 still routes via router 2 as these routes are Intra area even though they are a distance of over 1000 because the other routes learned via R3 are Inter Area routes but at a lower cost. So I have choices, do I extend area 0 to router 1/2 outside interfaces, OR at the moment as this is the only OSPF pocket, also have the link between 3/4 as area 1. However, that does not align to my hopes of having area 1 as a totally stubby area and only receiving a default route and advertising a summary /16 out of that area. Any thoughts on how better to do this?
Highlighted
Beginner
Mark as New

Bookmark

Subscribe

Mute

Email to a Friend
Since it's only 4 routers, probably the easiest thing to do would be to put them all in Area 0. Usually I only start adding areas when the number of routers gets too high (so your topology tables don't get too crazy) or to separate different geographic areas.
Highlighted
Mark as New

Bookmark

Subscribe

Mute

Email to a Friend
Hi,
It would probably be the easiest, but it doesnt give me the nice summarisation out of the site 1/2 as its not on an ABR or a default route into a stub kind of site, also bearing in mind the future with our core network hopefully going VPLS, so that would be our area 0 for OSPF.
So without having to change much in the future, I could make this all area 10 for example(im sure I dont need area 0 unless connecting different areas) and just default originate and accept the non summarised routes(not to many initially). I guess my brain is thinking ahead and want to structure this preemptively.
Lee