Highlighted
Mark as New

Bookmark

Subscribe

Mute

Email to a Friend
Hi All,
My concern is that if we have three switches connected in triangular fashion and flex link feature is used only on one switch then do we see any layer 2 issues?
For example if we consider this topology :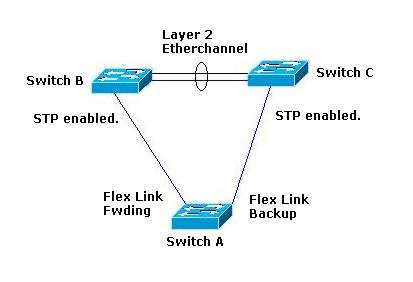 If all the links above are configured as trunk and all VLANS allowed then I wish to know -
- All ports on Switch B and C remain in fowarding state in STP?
- If switch B and C ports are in forwarding state in STP then will Switch B and C announce the MAC-ADDRESS table to Switch A over its directly connected interfaces?
- I understand that one interface on Switch A will remain in backup state and shall not SEND traffic but if it receives(I hope it can receive) the same MAC Address table on two interfaces(one being fwding in flex link and other being backup) then what would happen?
- Will there be MAC-FLAPS or Layer 2 loops observed?
Regards,
Talha
Frequent Contributor
Mark as New

Bookmark

Subscribe

Mute

Email to a Friend
FLEX links are designed to avoid STP. If STP is enabled, there is no need for FLEX.
When using FLEX links, only one link will be active at a time. The blocked link will not send any traffic across hence precluding MAC learning by the neighboring switch.
HTH.
Mark as New

Bookmark

Subscribe

Mute

Email to a Friend
Re: Querry on FLEX Links.
Hi Rais,
Thanks for your response. The thing is that flex link and stp is interface based. I cannot have flex links on my core switches... but I have to implement it on the access layer.
Kind of hybrid L2 topology. Also the STP is enabled on Switch B and C interfaces while Flex link is on Switch A.

Regards,
Talha

Message was edited by: Talha Ansari