Mark as New

Bookmark

Subscribe

Mute

Email to a Friend
REP Ring - Edge on two STP-connected HSRP enabled Nodes - STCN/REP Admin VLAN Question
All:
Design question per my attached diagram:
Overall Design: A REP ring segment that terminates into a pair of STP/Dot1Q trunk (EtherChannel etc.) interconnected Layer3 HSRP switches.
( Note: I haven't had a chance to test this in the lab; early next week, still in the planning Phase)
Questions:
1) Does the REP admin VLAN have any communication / signaling use over the Dot1Q trunk? Hypothetically: Would REP LSL PDUs sent/received only on REP ports?
2) Are there any platform-specific limitations about versions/mode of SPANNING TREE with which STCN can integrate? MSTP? PVSTP+? RSTP+?
3) I have found in the Community Forums archives questions from others who chose to design their Inter-HSRP aggregation switch connection as a REP Segment instead of Dot1Q/STP
Does anyone have experience? Are there advantages?
For me, I would chose Dot1Q/STP every time for two reasons:
1) To ensure HSRP messaging never has to switch / transmit more than one Layer1/Layer2 hop
(And not flowing around the ring, because of the ALT port blocking direct communication between AGG1 and AGG2)
2) To allow use of EtherChannel to obtain aggregated/redundant link between core/aggregation
(Can a REP run acrross EtherChannel/LAG/LACP?)
---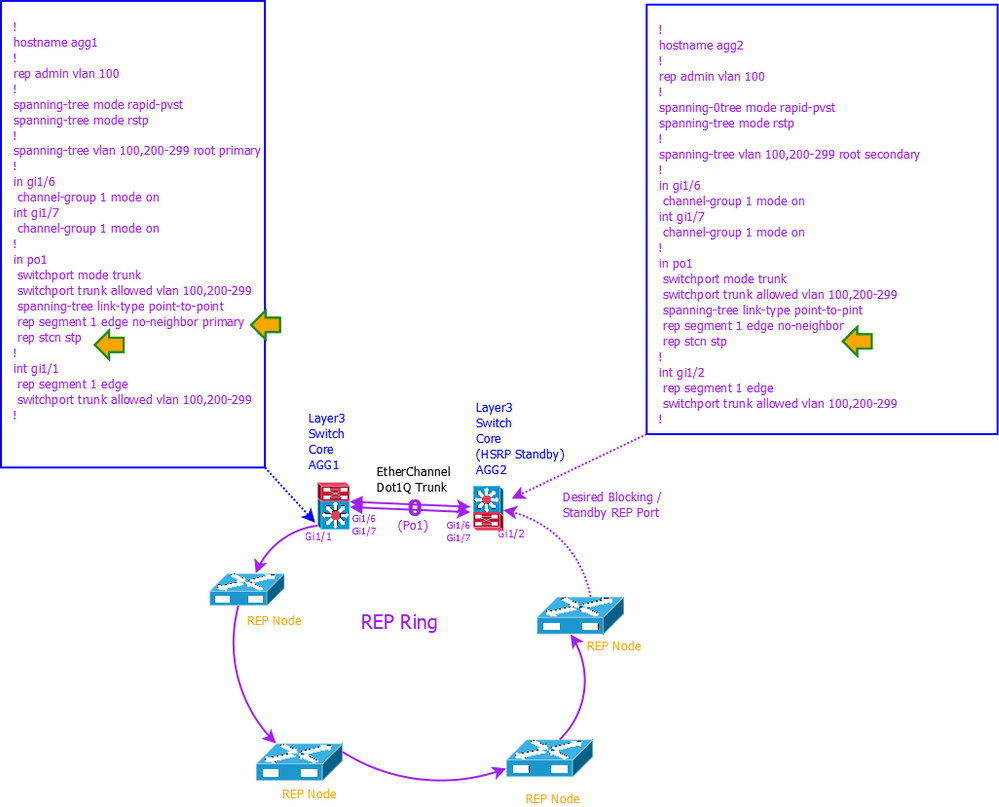 Mark as New

Bookmark

Subscribe

Mute

Email to a Friend
Two quick follow-ups from lab testing:
1) The REP Admin VLAN is irrelevant when you read closely about how REP STCN STP feature works
2) REP STCN STP seems to work fine with RSTP
There are some typos in the configuration I have listed below, but it does work.
~BAS