Highlighted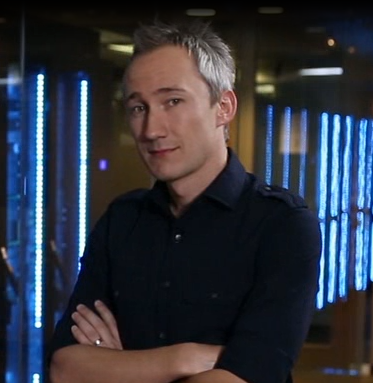 Beginner
Mark as New

Bookmark

Subscribe

Mute

Email to a Friend
Virtualized Lab Infrastructure - 3560G connecting to a Nexus 7000 - Help!
Hi all,
I've been struggling with the configuration for my small environment for a week or so now, and being a Cisco beginner, I'm worried about going down the wrong path, so I'm hoping someone on here would be able to help with my lab configuration.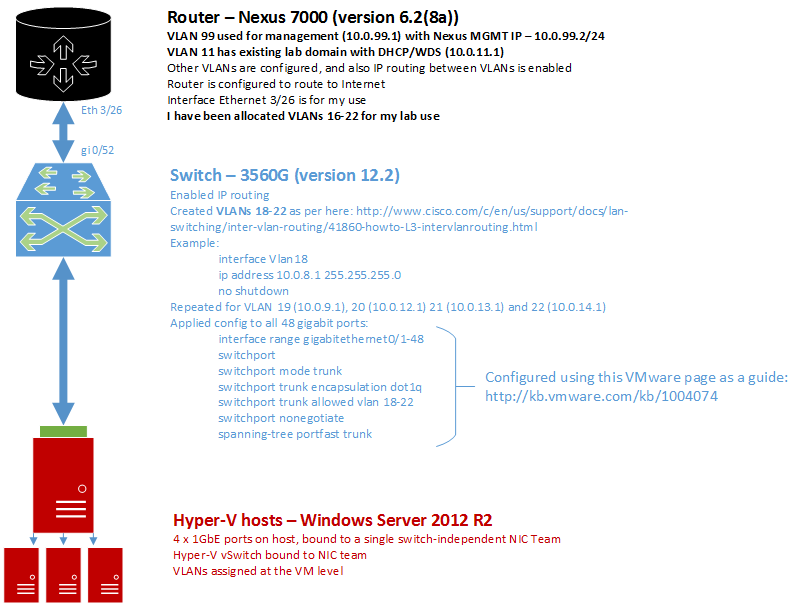 As you can see from the graphic, I have been allocated VLANs 16-22 for my use, on the Nexus 7000. There are lots of other VLANs in use on the Nexus, by other groups, most of which are routable between one another. VLAN 99 is used for switch management, and VLAN 11, is where the Domain Controller, DHCP and Windows Deployment Server reside for the lab domain. Servers across different VLANs use this DC/DHCP/WDS set of servers. These VLANS route out to the internet successfully.
I have been allocated eth 3/26 on the Nexus, as my uplink connection to my own ToR 3560G. All of my servers, of which there are around 8 in total, are connected to the 3560. I have enabled IP routing on the 3560, and created VLANs 18-22, providing an IP on each. This config has been assigned to all 48 gigabit ports on the 3560 (using the commands in the graphic), and each Windows Server 2012 R2 Hyper-V host connects to the 3560 via 4 x 1GbE connections. On each Hyper-V host, the 4 x 1GbE ports are teamed, and a Hyper-V vSwitch is bound to that team. I then assign the VLAN ID at the vNIC level.
Routing between the VLANs is currently working fine - As a test, i can put 2 of the servers on different VLANs, each with their respective VLAN default gateway, and they can ping between one another.
My challenge is, I'm not quite sure what i need to do for the following:
1) How should I configure the uplink gi 0/52 on the 3560 to enable my VLANs to reach the internet?
2) How should I configure eth 3/26 on the Nexus?
3) I need to ensure that the 3560 is also on the management VLAN 99 so it can be managed successfully.
4) I do not want to route to VLAN 11, as i intend to have my own domain (DC/DNS/DHCP/WDS)
Any help or guidance you can provide would be much appreciated!
Thanks!
Matt