Options
Mark as New

Bookmark

Subscribe

Mute
‎03-07-2013 10:25 PM - edited ‎03-18-2019 12:44 AM
Hi. I'm facfing some special issue which I've never seen before.
plz, see this picture belowed.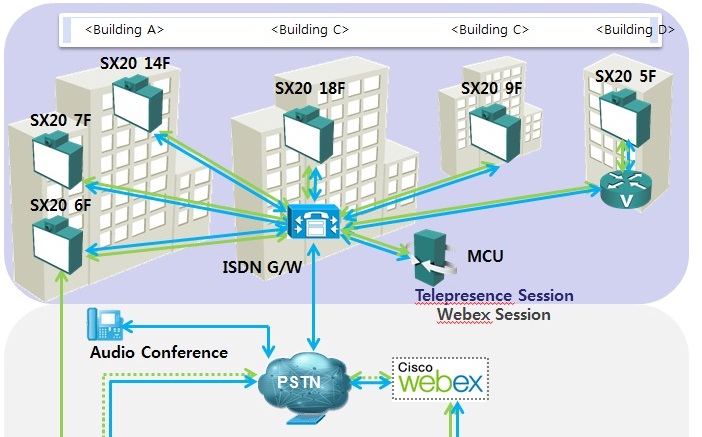 We are using H323 protocal with ISDN G/W 3241 interal Gatekeeper mode to call from SX20 to other SX20.
you may feel weired because we don't use VCS, but instead of it, we use ISDN G/W internal Gatekeeper.
ISDN to IP and IP to ISDN call works well. but, on VPN connected SX20(Building D) has certain problem.
it has no problem on H323 'direct' mode. but, once it changed to H323 'Gatekeeper' mode,
it looks well registed from seeing on ISDN G/W.
but, when we start call, Building D's SX20 is just keeping 'Dialing' status, and never step to 'connecting'
The only I can hear is unlimited ringtone from the Building D's SX20 and, from the opposite other SX20 call to
Building D SX20 call also has same result. 'the ulimited dialing' but, any signal didn't reached opponent side.
this issue only appeared on VPN connection, so I need to check what I have to do more when set on VPN connection for Telepresence.
Dose anyone know about like this issue?
1 Accepted Solution
Options
Mark as New

Bookmark

Subscribe

Mute
‎03-08-2013 04:34 AM