Options
Mark as New

Bookmark

Subscribe

Mute
‎12-05-2012 03:39 AM - edited ‎03-18-2019 12:14 AM
Hi,
A colleague of mine has an issue with high CPU load caused by the java process under the wrapper, he's using the latest version of TMS 13.2.2 with TMSPE, the server is running Server 2008 R2 Enterprise, 4GB RAM, 64bit, the latest java update (9) has been applied but to no avail.
The java process on my TMS system is running at 0.54% avg, the only difference I can see is the amount of RAM, his userbase is tiny (80 users).
Any suggestions on what he could try to diagnose the issue?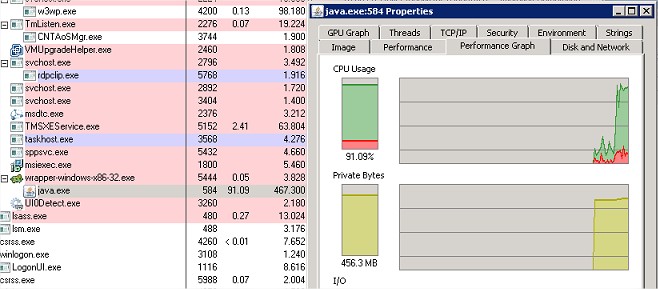 1 Accepted Solution
Options
Mark as New

Bookmark

Subscribe

Mute
‎12-06-2012 01:53 AM
Hi are you using findme?

Can you check if the video address pattern is the same as the device address pattern?

Also in the tmspe diagnostics can you see if the device import has a "working"
Circle on it like its doing a constant import?

If you are not using findme, disable it on the tmspe settings in tms and restart the tmspe service. Has the cpu stabilized now?

/Magnus

Sent from Cisco Technical Support iPhone App