Beginner
Mark as New

Bookmark

Subscribe

Mute

Email to a Friend
C-20 + MSE 8420 Bridge Layouts
Hello. We have a few C-20's across our organization but most of our endpoints are MXP's or Edge units. When on a multipoint call with a presentation the usual layout we use is 1 large pane showing the presentation and 3 or 4 locations in smaller windows along the right side. However, the C-series doesn't seem to like to listen to the bridge and makes up it's own layouts. Is there any way to force it to show what the bridge is trying to push? I've attached a very crude drawing to illustrate what happens. Any help would be appreciated.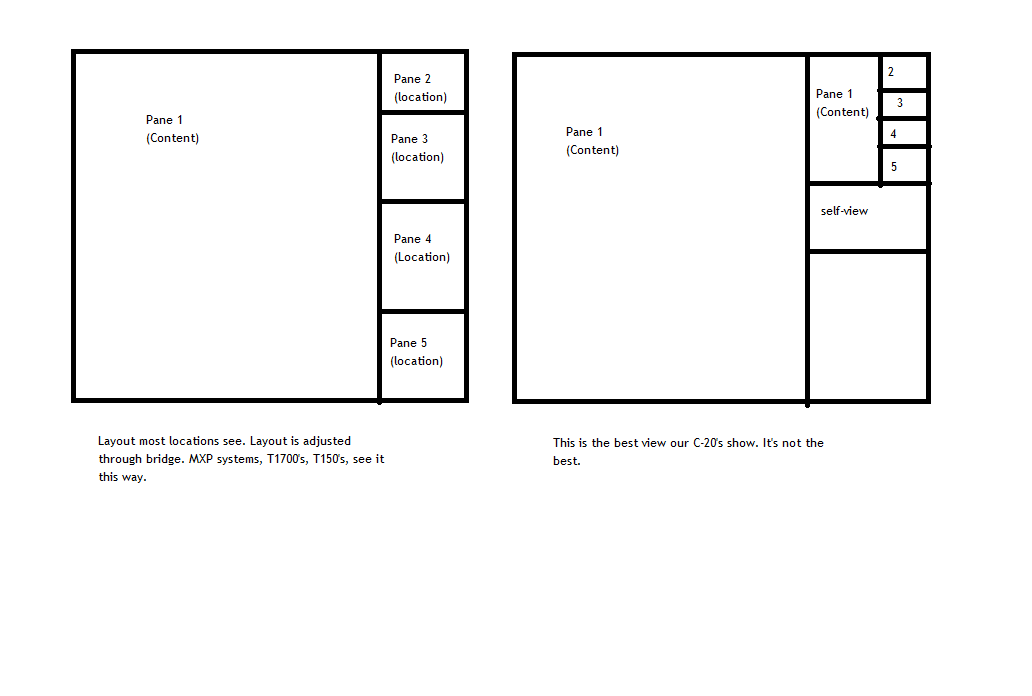 Cisco Employee
Mark as New

Bookmark

Subscribe

Mute

Email to a Friend
Hi Ramon.
You can change layouts by using the "far end" camera control on your C20 endpoints. This will change the layout on the mcu for local codec.
I leave the question about how to force the layouts on MCU to somone else.
//Marius
Cisco Employee
Mark as New

Bookmark

Subscribe

Mute

Email to a Friend
HI Ramon - Is your goal to send the content in main video channel? This seems to me that the other devices may be receiving it in main video window, but the C20 is receiving it, in main and dual?
The MCU seems to be sending what is in the right corner of the C20 view you have made here. Maybe you can check the local layout and see what you have set there on the C20 perhaps?
xConfiguration Video Video Layout LocalLayoutFamily: Auto
If your goal is show content in main video channel, disable content globally on MCU and send everything in main, if the box is selected on the MCU. Does it change when doing so? You lose the ability to show content in second channel, but if your sending it in main video channel, would be moot to have it enabled.
My 2 cents.
VR
Patrick