Highlighted
Beginner
Mark as New

Bookmark

Subscribe

Mute

Email to a Friend
Hi folks
I am trying to fix and E20 that won't boot. I have managed to obtaint the appropriate serial cable and can log into it as root using teraterm, but am stuck as to what to do next. Any ideas what the appropriate console commands are?
Thanks
1 ACCEPTED SOLUTION
Highlighted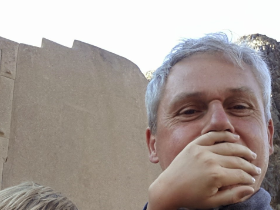 Cisco Employee
Mark as New

Bookmark

Subscribe

Mute

Email to a Friend
Got on the phone with Hazel and entered the system in u-boot mode by hitting key when booting up.
Set the u-boot environment to get into root :
setenv otherbootargs allowroot
So we could finally login to the system via root. admin did not work because the E20 crashed.
We looked at the /var/log/eventlog/all.log file and noticed one of the DSPs is not responding : hardware issue. Not possible to fix this but RMA the unit. Sorry for this...
[Snoopy:/var/log/eventlog] $ cat all.log
Oct 17 11:58:04 (none) main: FPGA programmed OK
Oct 17 11:58:04 (none) main: Product information
Oct 17 11:58:04 (none) main: Snoopy
Oct 17 11:58:04 (none) main: Board revision: G
Oct 17 11:58:04 (none) main: Thread LedTask has TID 1746
Oct 17 11:58:04 (none) main: TE4.1.1.273710
Oct 17 11:58:04 (none) main: SVN Revision 273710
Oct 17 11:58:04 (none) main: Serial number: A1AA02A00080
Oct 17 11:58:04 (none) main: Program audio dsps [1]
Oct 17 11:58:13 (none) osd: WARNING :  Cannot parse value [ "" ] in "Config/Video/Selfview" to boolean. Treating it as "false".
Oct 17 11:58:13 (none) osd: WARNING :  TState has no desktop set
Oct 17 11:58:13 (none) osd: WARNING :  TState has no desktop set
Oct 17 11:58:15 (none) main: shmemLoadDsp: Program video dsp
Oct 17 11:58:17 (none) main: shmemLoadDsp: Program video dsp finished
Oct 17 11:58:17 (none) video: DSP ID 1
Oct 17 11:58:17 (none) video: Product information
Oct 17 11:58:17 (none) video: Snoopy
Oct 17 11:58:17 (none) video: Board revision: G
Oct 17 11:58:17 (none) main: Thread persistDb has TID 1763
Oct 17 11:58:18 (none) main: Thread persistDb has TID 1764
Oct 17 11:58:18 (none) video: fsm_procSetup: Open Interprocessor comm devs.
Oct 17 11:58:18 (none) video: shmemdsp: Waiting for arm to init shmem area. (119)
Oct 17 11:58:18 (none) main: Thread ShmemRx has TID 1765
Oct 17 11:58:19 (none) video: shmemdsp: Waiting for arm to init shmem area. (118)
Oct 17 11:58:20 (none) video: fsm_procSetup: Initialize data structures.
Oct 17 11:58:20 (none) video: fsm_procSetup: Create all FSM tasks[6].
Oct 17 11:58:20 (none) video: fsm_procSetup: Check for system synchronization.
Oct 17 11:58:20 (none) video: registerAndWaitForNotify: Sending id = SYSTEM_VIDEO0(1) (16777216)
Oct 17 11:58:20 (none) video: Wait for timeout, or incoming message
Oct 17 11:58:28 (none) main: uhpihost: Can't boot dsp 0
Oct 17 11:58:28 (none) main: uhpihost: Can't boot all dsps
Oct 17 11:58:29 (none) main: Received signal SIGSEGV (11) in thread 0x4082a4c0, TID 1713
Oct 17 11:58:29 (none) main: Illegal memory access at: 0xebffffb2
Oct 17 11:58:29 (none) main: Registers:
Oct 17 11:58:29 (none) main: R0:     4010414c R1:   ebffffb2 R2:    bea1569c R3:   000000c8
Oct 17 11:58:29 (none) main: R4:     40100000 R5:   bea1569c R6:    ebffffb2 R7:   bea1569c
Oct 17 11:58:29 (none) main: R8:     bea156c8 R9:   ffffbd0c R10:   bea156cc FP:   bea199e4
Oct 17 11:58:29 (none) main: PC:     400e8864 IP:   400e8818 SP:    bea15640 LR:   400e9790
Oct 17 11:58:29 (none) main: ERR:    00000005 CPSR: 60000010 FAULT: ebffffb2 TRAP: 0000000e
Oct 17 11:58:29 (none) main: OLDMSK: 00000000