Highlighted
Beginner
Mark as New

Bookmark

Subscribe

Mute

Email to a Friend
Tandberg MXP880 - ISDN Line question
Hi Guys,
Hope you can give me some insights with the issue we are having with this device. Before we are using 3 ISDN2 Lines for the codec as the need to have a faster connection we had decided to add one last ISDN2 line, so we use the ISDN BRI4 for this one. prior to this we have a maximum 384KBPS and we are expecting to have a 512KBPS with the additional ISDN2 Line. But here is the problem:
we changed all the contacts preset already for the ISDN speed to 512Kbps. Added the number to the ISDN BRI4 settings.. Tested the number by calling from a regular phone and it's ringing(we can see the notification on the screen that there is an incoming call.). However, when we use the the device to call to one of our site in Thailand (which uses ISDN30) we cannot get 512Kbps or vice-versa. Yesterday i checked the diagnostics during the call and this is what is see: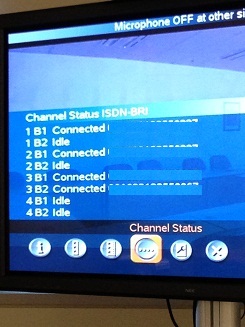 funny thing is, on the second video call i had made the BRI4 states disconnected and made a confirmation with the ISP compan from thailand that we are indeed just using 3 numbers to call out the 4th line is not active..
what am I missing here? does this one still need a bandwidth option key (which is ridiculous if YES!)
hope you can help me out guys.
TIA!!