edited on:

‎03-01-2019

‎06:40 AM
| | |
| --- | --- |
| Task Name | Open Automation module for controlling Nimble storage via its RESTful API (NOT AN OFFICIAL NIMBLE PLUGIN) |
| Description | |
| Prerequisites | Minimum UCSD version: 5.4.0.0 |
| Category | Open Automation Module for Nimble Storage |
| Components | |
| User Inputs | |
| User Output | |
Instructions for Regular Workflow Use:
Instructions for Regular Workflow Use:
1

Download the attached .ZIP file below to your computer. *Remember the location of the saved file on your computer.

2

Log in to UCS Director as a user that has "system-admin" privileges.

3

Navigate to "Administration->Open Automation" and click on "Add ".

4

Click "Browse" and navigate to the location on your computer where the .ZIP file resides. Click "Upload".

5

Once file is uploaded, Click "Submit".

6

Highlight the newly installed module and click 'enable'.

7

Click "Submit".

8

Restart UCS Director services for the new module to be loaded.
After following the instructions above, the following plugin should show in the UCS Director GUI:

Once installed, the following orchestration workflow tasks will be available:
Running the 'Nimble Get Inventory' workflow task will dynamically create a list of values (LOVs) for your array that can be used to provide drop down selectors in your other workflow tasks.
Edit Workflow Input Types:

These can now be used to enhance your workflows: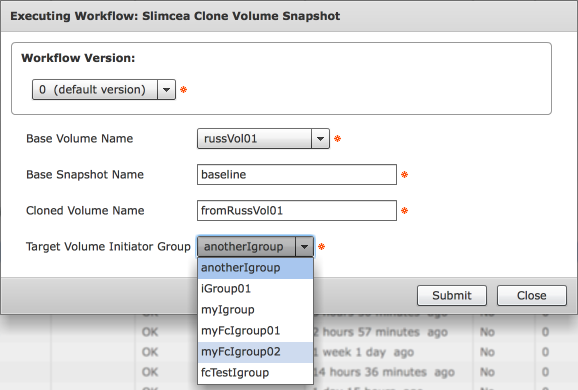 UPDATE 18th April 2016: I've replaced the slimcea module with a more official looking Nimble module. The attached file feature-nimble-genericstack-1.0.0.zip is a REPLACEMENT for the slimcea module. If you currently have the slimcea module installed and running, you will need to delete it BEFORE you load the nimble module. The new module has nicer icons, no mention of the the word slimcea and the the ability to add a Nimble array to a Generic type pod as well as a SmartStack.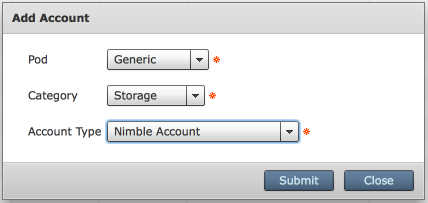 UPDATE 15th June 2016: I've modified the Create Volume task to retrieve the dynamic IQN for iSCSI arrays and set as a task output. This can be found in feature-nimble.1.0.2.zip