Mark as New

Bookmark

Subscribe

Mute

Email to a Friend
Cisco phone VLAN tagging on access/voice port
Hello cisco community,
in the book CLCOR 350-801 I read the following statement on pages 202 and 203:
The phone will then use these VLANs (data and voice switchport configurations) to tag all communication originating from the phone with the voice VLAN, and all information originating from a connected computer with the data VLAN.
Further down it says: The phone will tag computer traffic as data and will tag phone traffic as voice.
I think this is not correct.
So far every documentation stated that only the voice traffic is tagged with 802.1q and the computer traffic (data) is sent untagged to towards the switch.
How can the described statement from the book be correct?
VIP Advisor
Mark as New

Bookmark

Subscribe

Mute

Email to a Friend
The switch built into Cisco IP Phones has much of the same hardware that exists inside of a full Cisco switch. The incoming switchport is able to receive and send 802.1Q tagged packets. This gives you the capability to establish a type of trunk connection between the Cisco switch and IP phone, as shown in Figure 3-6.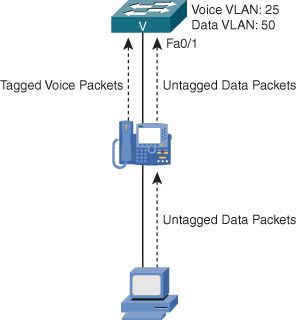 Figure 3-6 Separating Voice and Data Traffic Using VLANs
You might call the connection between the switch and IP phone a "mini-trunk" because a typical trunk passes a large number of VLANs (if not all VLANs). In this case, the IP phone tags its own packets with the correct voice VLAN (VLAN 25, in the case of Figure 3-6). Because the switch receives this traffic on a port supporting tagged packets (our mini-trunk), the switch can read the tag and place the data in the correct VLAN. The data packets pass through the IP phone and into the switch untagged. The switch assigns these untagged packets to whatever VLAN you have configured on the switchport for data traffic.
Mark as New

Bookmark

Subscribe

Mute

Email to a Friend
Hi Nithin,
that's how I remember it. Therefore the description in the book is a bit misleading in my opinion, since the data packets are not tagged. Only the voice packets are tagged based on the voice vlan information received e.g. via CDP.