Beginner
Mark as New

Bookmark

Subscribe

Mute

Email to a Friend
Unity 7.0.2 Media Master not installed / working
We have several Unity 7.0.2 unity servers configured, both on W2K and W2K3. This morning, user reported that when they try to access the CiscoPCA, they get the following error (see attached bitmap for full error). We are also getting this on the Unity server itself when trying to open the ciscopca. The WebSA opens fine, but the media master bar is presented by a red X.
"Logon failed because the CiscoPCA Media Master was not found"
I have reviewed the troubleshooting document and all of it discusses the workstation only, but the media master is not displayed on the server and I am not sure how to go about reinstalling/reenabling the media master on the server itself. I have a TAC ticket open on this but they have not yet been able to resolve this.
By all accounts, this was working as one of the servers was upgraded over two months ago and our first complaint was today so not sure if something has changed or if this has been the case all along. The second server whichis reporting this issue was upgraded over the weekend.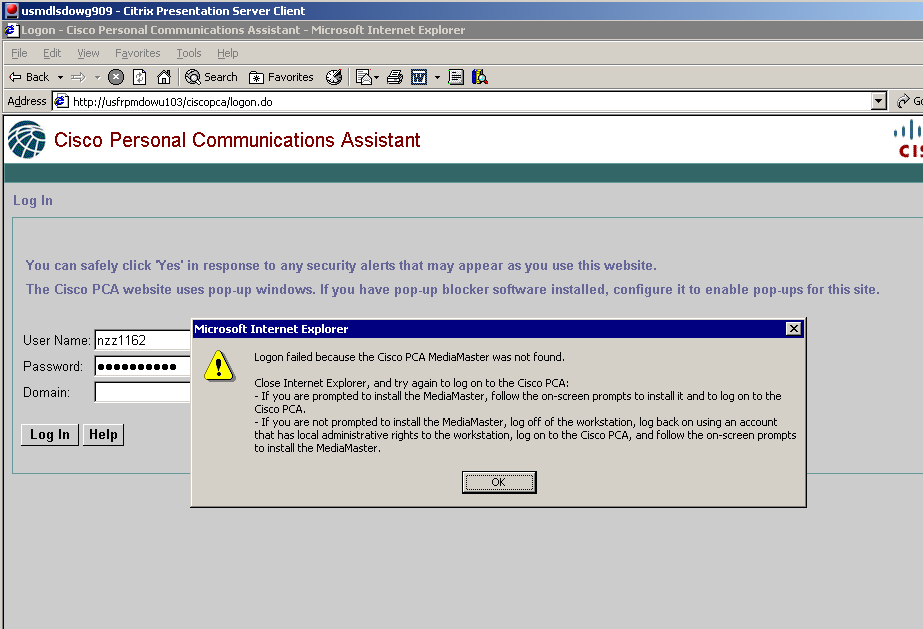 Enthusiast
Mark as New

Bookmark

Subscribe

Mute

Email to a Friend
Greetings Sandra - it's been awhile!
Is there any chance your security folks locked down activeX via a group policy change?
HTH,
Art Sandborgh
Beginner
Mark as New

Bookmark

Subscribe

Mute

Email to a Friend
Hi Art..yes, its been a long time. You know as well as anyone that my "customer" is very security saavy...but if they had done this, it would be affecting all servers as they are in the same OU / policy. (and I just confirmed this is indeed the case, all 7.x servers are experiencing the same issue). I have asked them to review any changes but they insist none have been made..will post my findings later. Hope you are doing well and thanks for the feedback.