Options
Mark as New

Mark as Read

Bookmark

Subscribe
Hyper-converged Computing: Cisco UCS with VMware Virtual SAN
In the past, traditional compute plus SAN solutions have presented several challenges for organizations – including added expense, a drain on resources, and lack of convenience.
First off, because of the need to spend resources on both compute and storage, these solutions increase a company's capital expenses. Plus, there is a need for typically silo' d skilled management and maintenance staff for compute and storage, which drives up operating expenses as well.
And of course, architectural requirements are complex which, in turn, increases the planning and calculation efforts needed in the deployment of the intended workload. And finally, scaling out an existing environment is not exactly easy.
In comes VMware Virtual SAN (VSAN)
This all changes with VMware VSAN, a software-defined storage offering that is fully integrated with VMware vSphere. With this hyper-converged solution, you can now combine storage and computing for virtual machines into a single device and achieve a high level of scalability and performance.
In case you're not familiar with it, VMware VSAN puts the storage within the compute and hypervisor instead of in an external storage array. It aggregates locally installed disks in a VMware vSphere cluster to create a single shared data store, which can be rapidly provisioned from VMware vCenter Server during virtual machine provisioning operations.
Add in the power of Cisco UCS
Now's here the good news—VMware Virtual SAN can now be used as a hypervisor-converged storage solution with Cisco Unified Computing System (Cisco UCS)for a high availability, resilient solution. Here's what it looks like: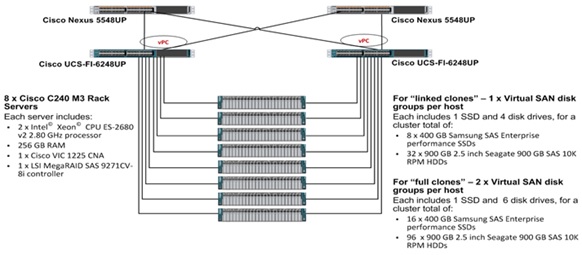 With VMware Virtual SAN and Cisco UCS working together, this solution delivers rapid provisioning, unified management, and linear scalability. And here's the proof of that…
High availability and resiliency all in one
To illustrate this solution, we tested VMware Horizon 6 with View hosted on Cisco UCS 240 M3 with VSAN running on vSphere 5.5 U2. The tests were performed with different scalability and desktop types for 800 deployed virtual desktops based on real-world scenarios, user workloads, and infrastructure system configurations.
Here are some highlights of the test results that you can use as a proof of concept (POC) for your own environment.
This solution successfully achieved a linear scalability from 400 desktops on four nodes to 800 desktops on eight nodes with VMware VSAN data store latency under 15ms according to VSAN Observer performance data.
For both linked-clones and full-cloned desktops, this solution guarantees end-user performance with practical workloads, with an average of less than 3ms latency with standard office applications.
The solution also provides proven resiliency and availability, with high application uptimes.
IT efficiency is improved with faster desktop operations throughout this deployment.
Here are a few other key points to note:
What This Means to You
The implementation of VMware Virtual SAN and VMware Horizon 6 with View on Cisco UCS provides a highly available and resilient solution with exceptional end-user performance and a simpler management experience.
This solution is cost-effective for the hosting of all sizes of virtual desktop deployments and it allows for a granular scalability through the addition of more drives. Deployments can be scaled out by adding additional Cisco UCS C240 M3 nodes to the VSAN environment.
To help you understand the full implications of this solution, we put together a reference architecture white paper that shows the scalability and performance of this deployment. We've also included design and implementation best practices and availability and resiliency considerations.
As you'll see in the test results, the combination of VMware Virtual SAN on one of the fastest growing integrated compute, storage, and network platforms on the planet is hard to beat.
For the complete system configuration, full test results, and recommended best practices for this architecture, download this white paper now: Cisco Unified Computing System with VMware Horizon 6 with View and Virtual SAN.
6 Comments
You must be a registered user to add a comment. If you've already registered, sign in. Otherwise, register and sign in.