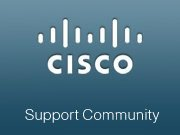 Community Manager
Mark as New

Bookmark

Subscribe

Mute

Email to a Friend
Ask the Expert: Troubleshooting Cisco UCS with Fibre Channel Storage
Welcome to the Cisco Support Community Ask the Expert conversation. This is an opportunity to learn and ask questions about Cisco Unified Computing System™ (Cisco UCS®) Fibre Channel storage connectivity and best practices for your environment as well as troubleshooting storage connectivity issues.
Cisco UCS fabric interconnects are capable of connecting to Fibre Channel switches in (NPV) and Fibre Channel switching modes. Also, the Fibre Channel storage can be connected directly to Cisco UCS fabric interconnects. With the newer versions, Cisco UCS provides Fibre Channel zoning at the fabric interconnect level.
Ali Aslanpour is a customer support engineer for the Cisco Technical Assistance Center (TAC) data center server virtualization team based in San Jose, California. He has been working in the Cisco TAC for the past two and half years with a primary focus on data center technologies, such as Cisco UCS, Cisco Nexus® 1000V Switches, Cisco UCS INVICTA™ Series Solid State Systems storage, and virtualization. He previously worked with EMC VNX for three years. He holds a master's degree from DeVry University in information system management and has Cisco CCIE® Data Center certification (43504).
Jalpa Patel specializes in data center technology. Jalpa has over 10 years of experience in information systems networking with a diverse background in LAN and WAN administration, network design and architecture, Internet applications and technology, Microsoft network administration, enterprise class data center operations, server consolidation, and application virtualization.
Jalpa has been working with Cisco UCS and Cisco Nexus products for the last four years and received a pioneer award for the Cisco UCS product. Jalpa received a masters of science degree in telecommunication networks from New York University and is CCIE (42465) in data centers.
Remember to use the rating system to let Ali and Jalpa know if you have received an adequate response.
Because of the volume expected during this event, our experts may not be able to answer every question. Remember that you can continue the conversation in the Data Center, under the subcommunity, Unified Computing, shortly after the event. This event lasts through June 6, 2014. Visit this forum often to view responses to your questions and the questions of other Cisco Support Community members.