Mark as New

Bookmark

Subscribe

Mute

Email to a Friend
Does anyone have working Appliance Ports for NAS?
Have been hacking at this a while and not getting Appliance ports to work.
It appears that Appliance ports cannot be used in a PIN group?
Also the VLAN's made under the "Appliances" tab are only seen by Appliance Ports. But the VLAN's under Appliances are no availble to vNIC's.
Have heard that two VLAN's with the same VLAN ID are need under the Appliances and LAN tab.
Have done that, and blades can ping each other, but not the NAS device. Also the NAS device cannot ping the blades.
HELP!
Craig
My UCS Blog http://realworlducs.com
Mark as New

Bookmark

Subscribe

Mute

Email to a Friend
Got it working in the lab, here are notes. Can say "It Works"
Microsoft Storage Server with dual port 10G card Direct Attached
Under the Appliances tab created a VLAN with ID of 2000

Bound that to each Storage Port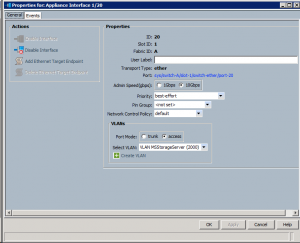 Created a VLAN with same ID 2000, under VLANs tab under LAN tab. Found that if the "names" are the same it does not work, so they must be different, but ID has to be.



This is kind of far out since most would think the two VLAN's would not see each other. Example you can create a VLAN with some ID on each FI, and they will not see each other. But you can create a global one under LAN/VLANs tab both FI's would see it.
Create a vNIC template and bing to the VLAN created that matches the ID of desired Appliance VLAN. Fine that Native is selected by default.

Boom, it works. Running Code level 1.4(3m).
My UCS Blog http://realworlducs.com