Beginner
Mark as New

Bookmark

Subscribe

Mute

Email to a Friend
Fabric Port Channel - Added a server port need to remove it
I recently changed my global chassis connectivity policy to 1 link with port channel configuration. I originally had 4 links connected to each IOM, but wanted to go down to 2. I re-acknowledged the chassis after making the change and disabling the other 2 connections, which resulted in a single port channel on each 6248 with 2 server ports. Everything was working great, and no more "unsupported connectivity error" in UCS Manager.
Now, I was going to configure one of the ports as an ethernet uplink and had one of my "tired moments" and accidently configured it as a server port. This automatically added it to the port channel on FI A (the twinax was still connected to the chassis because I was working remotely). Everything came back fine, but when I went to unconfigure the port it's still showing as a fabric port in the IOM module and the unsupport connectivity error is back. No matter how I enable/disable the port, it still shows an error. Is there anyway to get this back to normal operations without re-ack'ing the chassis? I don't want to schedule downtime for 300 VDI users again and I'm going on vacation next week so I hope I can fix this in a non-disruptive way. I thought having a port channel with 1 link setup in the global connectivity policy was going to allow adding and removing links without having to re-ack the chassis? Maybe I'm wrong? Adding worked, but removing definitely didn't...unless I'm missing something.. :-)
Thanks for any help!
Uner the Internet LAN it shows only 2 interfaces in the port channel: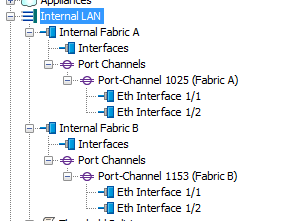 Under the IO module 1, it shows 3 fabric ports, even though Port 1/3 is disabled and "unconfigured":

These are the errors that still are showing up: