Beginner
Mark as New

Bookmark

Subscribe

Mute

Email to a Friend
Ram not populated correctly UCS C220
Hello all-
We had a few UCS C220 servers that were installed by a contractor a number of years ago. I need to add RAM to them and have never done so before, so I'm reading up on what is currently in them in and how they should be populated, and it appears to me that the contractor didn't populate them correctly - see image below: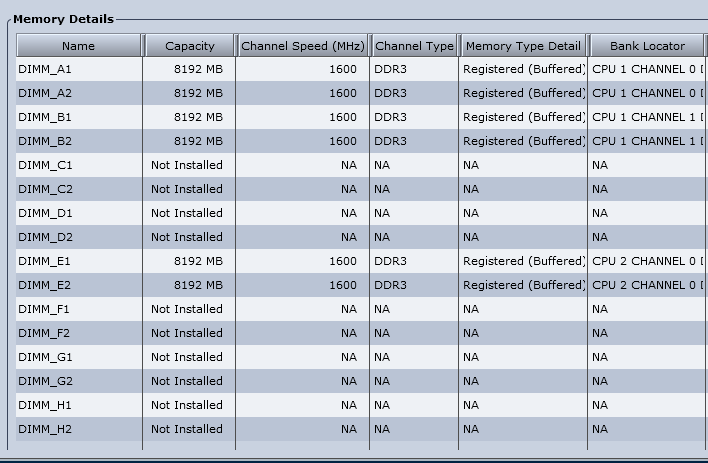 So what I'm planning on doing is adding 3 more dimms on each of these so instead of roughly 49 gigs they have closer to 75. I realize that's an odd number so I may bump it to 4, but as I read, I should be fine with the odd number.
So in any case, if what I'm reading here is any indication, this isn't right. I *think* what they should have done is
A1, B1, C1, E1, F1, G1 (1 channel each split equally between CPU's). Does that sound right?
So going forward, what should I do? If I added 3, I'm not equally split per CPU, I'm not sure if that matters or not.
Should I re-distribute all the DIMMS so that they are as so, if I have 9 total?
A1, B1, C1, D1, E1, F1, G1, H1 and A2 ?
I want to do what is correct, but obviously also want to be very careful not to cause any issues!
Thanks
1 ACCEPTED SOLUTION
Cisco Employee
Mark as New

Bookmark

Subscribe

Mute

Email to a Friend
Hi John,
It is highly recommended to use the same # of DIMMs per CPU, ie always an even number of DIMMs. With 6 DIMMs, your assumptions are correct above. With that said, you can use 9 if you wish but this will be an unbalanced config - again your assumptions on population are correct. you would have an extra DIMM in channel A (and really it does not matter where this DIMM sits, as one CPU/channel will always be unbalanced.
Greg