Beginner
Mark as New

Bookmark

Subscribe

Mute

Email to a Friend
UCS C210 M2 issues booting off HDDs
Hi all,
I have a Cisco UCS C210 M2 with an LSI MegaRAID SAS 9260-8i with 8 HDDs connected.
I'm having trouble getting the system to boot off the HDDs.
I have configured BIOS to use the Onboad SATA Controller in SW RAID mode (this is the only option that brings up the LSI MegaRAID during POST) however it reports no HDDs found causing the boot sequence to fall back on the DVD drive, NICs, etc.
Booting with the latest version of the UCS Server Configuraton Utility boot disk I can see all 8 hard drives and have configured a RAID 1 array consisting of 2 HDDs (for the boot drive) and a RAID 5 array of the remaining 6 drives.
I have even tried installing Windows Server 2008 R2 using the UCS SCU boot disk OS Install wizard and again I can see the disks in the RAID configurations I have created. I create a 60Gb partition in the RAID 1 array, follow the prompts, opt for installing drivers off the UCS SCU boot disk (the LSI MegaRAID driver is selected by default) however when the system restarts to begin the OS install it ends up booting off the Windows Server 2008 R2 DVD instead.
I'm not able to install Windows in this manner as it cannot see the disks.
The LSI MegaRAID card is connected to the HDD backplane according to the C210 Installation and Service Guide (it was ordered with the chassis and came pre-assembled).
http://www.cisco.com/en/US/docs/unified_computing/ucs/c/hw/C210M1/install/RAID.html
Am I dealing with a faulty RAID controller, or just missing something that should be completely obvious???
UCS SCO Inventory screen showing RAID Controller and disks: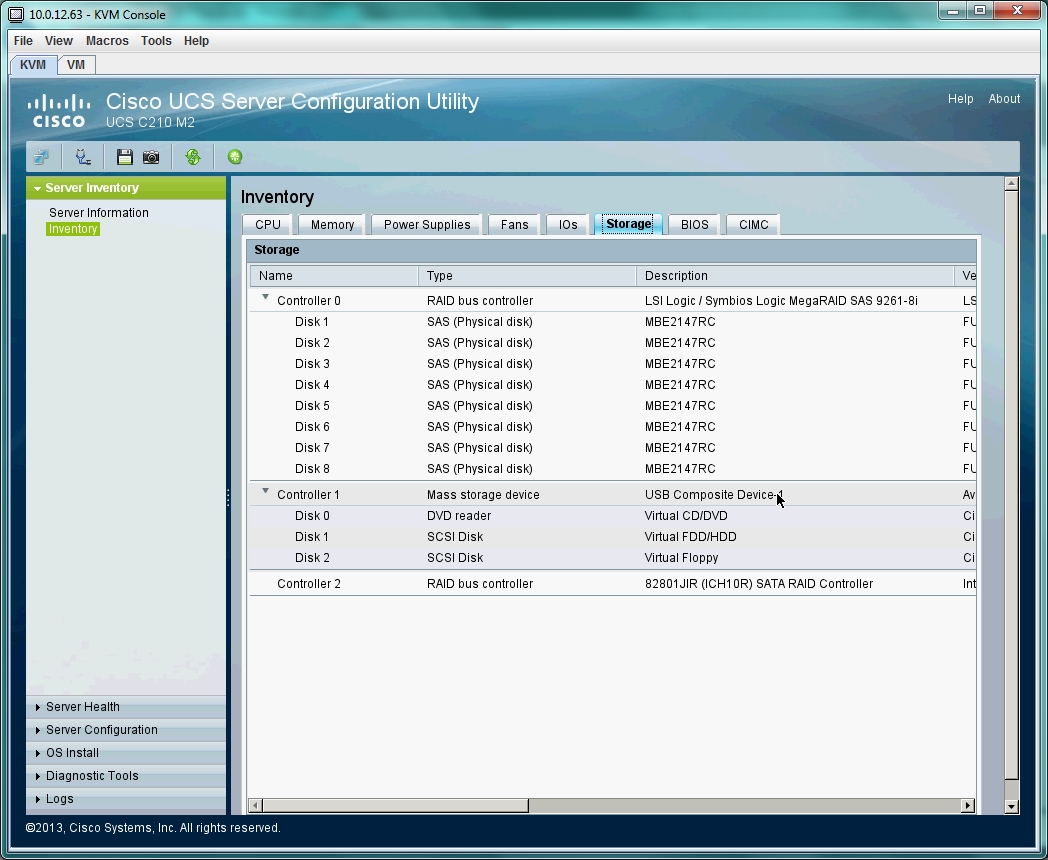 UCS CSU OS Install Wizard showing RAID volumes:
During the boot up process: