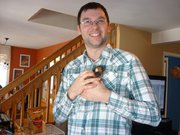 Beginner
Mark as New

Bookmark

Subscribe

Mute

Email to a Friend
Hi,
I'll open a ticket with SBSC or TAC, but I'm taking chance here for my problem.
I have a customer who is complaining about volume too low on his handset and speaker, notably when using the 6 FXO ports.
No choppy sound, no delay, not a great echo issue, it's really the low volume and it sound like if you're on a tunnel (but a small, no echo ).
Here's what the system is :
UC560 version 8.2 (uc500-advipservicesk9-mz.151-2.T4)
Almost all the phones are SPA504G Firmware Version 7.4.8A
Some SPA501G, SPA502G and SPA508G
The speaker volume is at 15.
Troubleshooting :
1. First, I've done the "Analog Voice Port Best Match Impedance Setting Choice :http://www.cisco.com/en/US/tech/tk652/tk701/technologies_tech_note09186a0080477a06.shtml
It was recommended to use complex5 as the impedance.
2. After that, I've tried the Deep Bass adjustment on the SPA Phone. There was still having problem.
3. I've tried the handset audio gain, speaker audio gain on the web page device settings, with no good result.
4. I've change the input gain on the FXO at 10 dB. The customer is happy that it's louder but he hears static now on the line has I was suspecting would happen, but they prefer it than not hearing people.
I'm at the step to test the firmware 7.4.9C if there were any progress...
Testing for a PRI...
Testing 79XX phones...
Any idea would be great.