Highlighted
Mark as New

Bookmark

Subscribe

Mute

Email to a Friend
NOVELL & VPN Client 1.1 Pix 520 ver 5.2 (2)
I'm confused here. I support a mixed NOS, NT & Novell. I start the VPN session with a login to the PIX. I have the workstation (Win98) configured so that it logs on to NT w/o problems. I use the MS Clients. When I set the Novell as default client, problems. I can map NT drives. Novell client then gives errors, asking if I want to use dial up networking. Do I need to enable IPX/SPX on the PIX? The Novell servers do not use IPX except for a few printers. DNS & DHCP come from the Novell DHCP/DNS server. I can ping by name across my routers(10.2 to 10.1 networks), and to all servers in either network. No Novell script or drive mapping works! I can not browse either, could this be related?
Any direction would be appreciated. At this time Email access via OWA to Exchange is solid, and I do not want to be invasive until we able to gain access to all network resources.
Any input??
Highlighted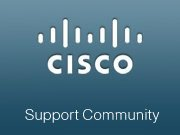 Community Manager
Mark as New

Bookmark

Subscribe

Mute

Email to a Friend
Re: NOVELL & VPN Client 1.1 Pix 520 ver 5.2 (2)
Since there has been no response to your post, it appears to be either too complex or too rare an issue for other forum members to assist you. If you don't get a suitable response to your post, you may wish to review our resources at the online Technical Assistance Center (http://www.cisco.com/tac) or speak with a TAC engineer. You can open a TAC case online at http://www.cisco.com/tac/caseopen
If anyone else in the forum has some advice, please reply to this thread.
Thank you for posting.
Highlighted
Mark as New

Bookmark

Subscribe

Mute

Email to a Friend
Re: NOVELL & VPN Client 1.1 Pix 520 ver 5.2 (2)
There are several methods of Cisco Secure VPN CLient access to Novell Networks.
First. Place the Novell Server in the NWHOST file.
Second, Add SLPDA.NLM to the server, then update the Novell Client config to add the SLP IP Address to the client config.
Third, and one I havn't worked out yet, is to use the IP multicasting allowance commands on the routers and PIX between the Novell server & remote client.
I am sucessfully using the second solution at this time.