troubles re-configuring network with crypto tunnel
Options
Mark as New

Bookmark

Subscribe

Mute
‎02-09-2012 08:14 PM
Hello all,
I'm hoping someone can help me out here. I'll try starting from the beginning and provide as much detail as possible.
I have a 2621xm as my main router. I've been using it for several years now and it's working excellently. Recently I've set up a crypto map tunnel over the internet with a friend who also has a 2621xm.
The tunnel worked excellently, we've been sharing network resources for a while with no issues. However, recently I've noticed that during copying through the tunnel to the other end, my 2621 crashes as its running at 99% CPU usage. I decided to add a 2651 to my network as the crypto router, keeping my original 2621 as my gateway router (See attached image).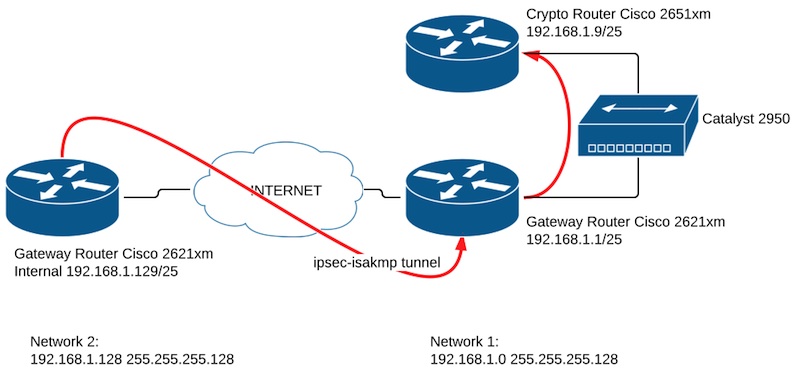 I copied all pertinent crypto information to the new router (1.9) and added a route on my 2621(1.1) to forward all traffic for the other network to go through the new router (1.9)
Long story short, the crypto map is established:
Interface: FastEthernet0/0
Session status: UP-ACTIVE
Peer: xx.xx.xx.xx port 4500
IKE SA: local 192.168.1.9/4500 remote xx.xx.xx.xx/4500 Active
IPSEC FLOW: permit ip 192.168.1.0/255.255.255.128 192.168.1.128/255.255.255.128
Active SAs: 4, origin: crypto map
I am able to ping any device on my friends network from any device on my network with NO problem. The issue is that my friend is unable to ping anything on my network. I know it's a routing issue, but I can't figure out what?
I thought if I added the following to my gateway router it would help:
ip nat inside source static esp 192.168.1.9 int fa0/1
since esp is specifically for Tunnel mode support, but that didn't work. What am I missing?
Also, since the change - I've noticed I'm getting this error intermittently on my new crypto router:
%CRYPTO-4-RECVD_PKT_MAC_ERR: decrypt: mac verify failed for connection id=2005 local=192.168.1.9 remote=xx.xx.xx.xx spi=902CEA75 seqno=00000001
Any help would be appreciated.
If need be I can also attach my config files.
Thank you very much in advance!
Chris.