edited on:

‎05-14-2013

‎02:49 PM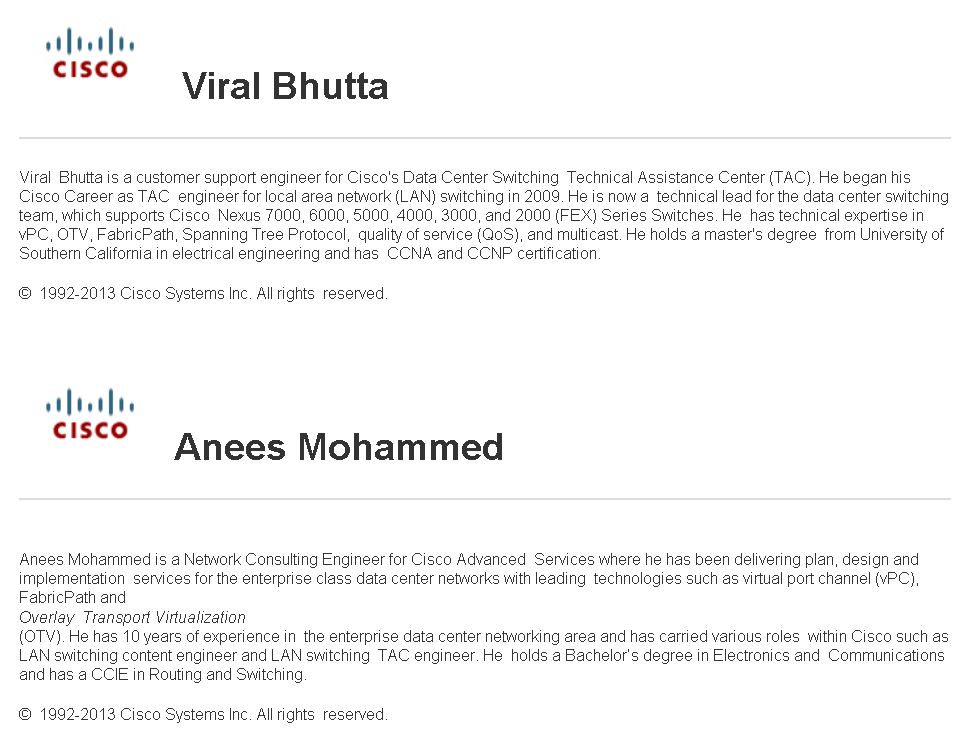 Viral Bhutta
---
Viral Bhutta is a customer support engineer for Cisco's Data Center Switching Technical Assistance Center (TAC). He began his Cisco Career as TAC engineer for local area network (LAN) switching in 2009. He is now a technical lead for the data center switching team, which supports Cisco Nexus 7000, 6000, 5000, 4000, 3000, and 2000 (FEX) Series Switches. He has technical expertise in vPC, OTV, FabricPath, Spanning Tree Protocol, quality of service (QoS), and multicast. He holds a master's degree from University of Southern California in electrical engineering and has CCNA and CCNP certification.
© 1992-2013 Cisco Systems Inc. All rights reserved.
Anees Mohammed
---
Anees Mohammed is a Network Consulting Engineer for Cisco Advanced Services where he has been delivering plan, design and implementation services for the enterprise class data center networks with leading technologies such as virtual port channel (vPC), FabricPath and
Overlay Transport Virtualization
(OTV). He has 10 years of experience in the enterprise data center networking area and has carried various roles within Cisco such as LAN switching content engineer and LAN switching TAC engineer. He holds a Bachelor's degree in Electronics and Communications and has a CCIE in Routing and Switching.
© 1992-2013 Cisco Systems Inc. All rights reserved.