Highlighted
Beginner
Mark as New

Bookmark

Subscribe

Mute

Email to a Friend
Controller Discovery and AP States
Hi community,
While studing the controller discovery and AP states chapter in the CCNA Wireless OCG I got confused. Let me explain. These are the AP states: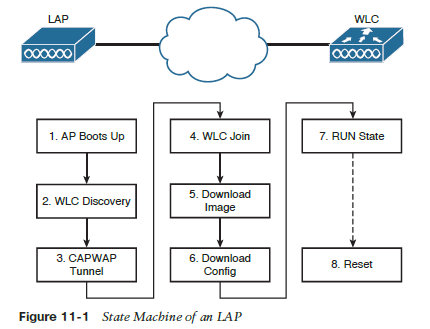 I am fine with all the states except for points 2, 3 and 4. The OCG says the following:

The question is, the AP attempr to build a CAPWAP tunnel (3) with all the WLCs discovered (2)? After CAPWAP tunnels have been built, the AP selects only a WLC from the list (4)? What happens if the AP has built CAPWAP tunnels with other WLCs if they are not going to be used? According to me, this would make sense if point 3 and 4 are switched, like this:
2. WLC discovery.
3. WLC join.
4. CAPWAP tunnel.
The AP would discovery WLCs (DHCP/DNS method, broadcast, etc.), it then would join one or more WLCs, and then it would build CAPWAP tunnels only to the WLCs it wants to join (and they have accepted and replied with a CAPWAP Join Response message) in the previous step. The AP wouldn't build CAPWAP tunnels with WLCs which are not going to be used. What am I missing?
Regards,
Julián