Highlighted
Beginner
Mark as New

Bookmark

Subscribe

Mute

Email to a Friend
Corporate wifi Shows - Connected NO INTERNET - Windows 10 Users, feedback from the users - Wifi Sucks
Team,
We have some weird issue going on for many months, we did much troubleshooting, including the driver upgrade on the clients. but the issue still persists and the challenge here is it is very difficult to collect the real-time logs because we don't know then the issue re-correct.
to troubleshoot this issue we have test SSID as well created, where only very few users associated with this test SSID.
attached is the configuration for our test SSID.. Experts - please kindly review the config and tel us what we are missing from the controller side. we are not sure what is the cause is it controller or client, et...
issue: -
When the users are in the corporate wifi - all of the sudden user wifi shows Connected "NO INTERNET"
Workaround-
Users will have manually disconnect & re-connect.
Client type - Laptop (Windows 10 Image) - also attached the client WLAN report for reference (
Wireless Adapter - Intel various model
WLC - Cisco 5520
Version - 8.8.125 (We have tried many previous versions)
All the AP's are added in flex connect mode with WLAN & flex connect groups.
AP Model - Cisco 3802
Authentication - We were using ISE, then this SSID we have put it on Microsoft radius auth - the issue is with both auth method.
WLAN report - Just before the Manual Disconnect & re-connect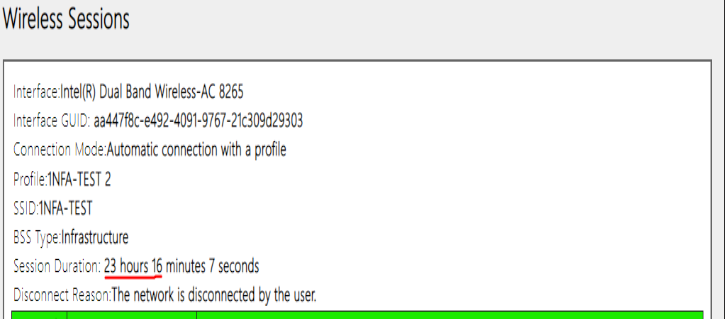 the clinet session active time.