Highlighted
Beginner
Mark as New

Bookmark

Subscribe

Mute

Email to a Friend
I am trying to connect two bridges Root bridge to non root bridge. The SSID and the encryption must be match on both bridges to get the association and authentication. The encryption can be different when you input from the console or web base. Is there any tool to check for the encryption for matching? Any helps? Thanks
1 ACCEPTED SOLUTION
Highlighted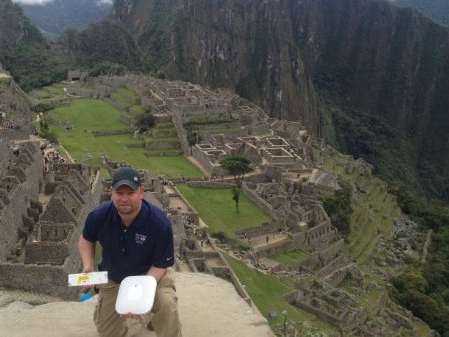 Advisor
Mark as New

Bookmark

Subscribe

Mute

Email to a Friend
We need to rip the config down further. You see that line mobility network id command ? You arent doing a WDS and you dint have a WLSE correct ?
Read this ...
A. You use the mobility network-id command in order to configure Layer 3 mobility in a wireless network. You use the mobility network-id ssidcommand in order to associate a service set identifier (SSID) to a Layer 3 mobility network ID. With Layer 3 ...

You must use a wireless LAN (WLAN) services module (WLSM) as your wireless domain services (WDS) device in order to properly configure Layer 3 mobility. Layer 3 mobility is not supported when you use an AP as your WDS device. For more information on ...Understanding Layer 3 Mobility section of Configuring WDS, Fast Secure Roaming, and Radio Management.

The command is meant to be used when the AP participates in a WDS infrastructure with a WLSM module (that acts as the WDS device) where there is Layer 3 mobility. If you use this command incorrectly, connectivity problems in the WLAN network result, such as these:

Clients do not get IP addresses from the DHCP.
In some cases, the clients cannot associate with the AP.
Wireless clients cannot associate with the AP.
Extensible Authentication Protocol (EAP) authentication does not happen. With the mobility network-id command configured, the AP tries to build a generic routing encapsulation (GRE) tunnel for the forwarding of the EAP packets. If no tunnel is established, the packets cannot go anywhere.
The AP that is configured as a WDS device does not function as expected, and the WDS configuration does not work.
__________________________________________________________________________________________
"Satisfaction does not come from knowing the solution, it comes from knowing why." - Rosalind Franklin
"Satisfaction does not come from knowing the solution, it comes from knowing why." - Rosalind Franklin
___________________________________________________________