Highlighted
Beginner
Mark as New

Bookmark

Subscribe

Email to a Friend
Flexconnect Local Switching mode + local DHCP for several WLANs
Hi,
In Flexconnect Local Switching mode, I can get an IP adress only for a WLAN mapped to the native vlan.
I may have a bad configuration but after spending a lot of time, I'd like your point of view.
Here's my lab. On a branch site:
- A FlexConnect LWAP is connected on a switch (port Fa1/0/47)
- Two DHCP scopes are configured on the switch (for Guest and Prod)
- The van id 6 is used both for admin and production. The vlan id 7 is the Guest vlan
- Local Switching enabled. AP Flex Mapping: WLAN Guest -> vlan 7 , WLAN Prod -> vlan 6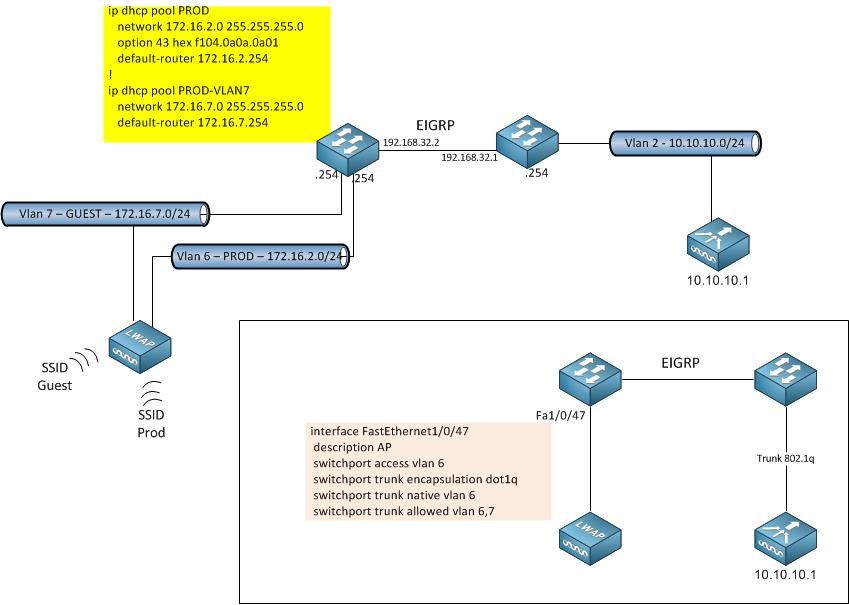 The LWAP can join the WLC.
- On the switch port, the line "switchport access vlan 6" is ncessary. Otherwise, the AP can't join the WLC.
Never seen that before ?
- Connection to SSID PROD -> the client gets an ip (172.16.2.x) (DHCP Pool Prod). Perfect.
- Connection to SSID Guest -> nothing. No IP delivered. I've checked agin. The WLAN-VLAN mapping on the AP is correct.
Do you have any idea ??
Thanks
Herve
9 REPLIES