Rising star
Mark as New

Mark as Read

Bookmark

Subscribe

Email to a Friend

Viten Patel is is a Wireless Expert working in Cisco TAC. In this Video, Viten has shown How to do the Flexconnect Vlan Override Local Switching Clients configuration on Wireless LAN Controller (WLC) and Cisco Secure Access Control Server (ACS).
In the current FlexConnect architecture, there is a strict mapping of WLAN to VLAN, and thus the client getting associated on a particular WLAN on FlexConnect AP has to abide by a VLAN which is mapped to it. This method has limitations, because it requires clients to associate with different SSIDs in order to inherit different VLAN-based policies.
From 7.2 release onwards, AAA override of VLAN on individual WLAN configured for local switching is supported. In order to have dynamic VLAN assignment, AP would have the interfaces for the VLAN pre-created based on a configuration using existing WLAN-VLAN Mapping for individual FlexConnect AP or using ACL-VLAN mapping on a FlexConnect group. The WLC is used to pre-create the sub-interfaces at the AP.
AAA VLAN override is supported from release 7.2 for WLANs configured for local switching in central and local authentication mode.

AAA override should be enabled on WLAN configured for local switching.

The FlexConnect AP should have VLAN pre-created from WLC for dynamic VLAN assignment.

If VLANs returned by AAA override are not present on AP client, they will get an IP from the default VLAN interface of the AP
Cisco Airespace-specific attributes will not be supported and IETF attribute VLAN ID will only be supported.

A maximum of 16 VLANs can be configured in per-AP configuration either via WLAN-VLAN Mapping for individual FlexConnect AP or using ACL-VLAN mapping on the FlexConnect group.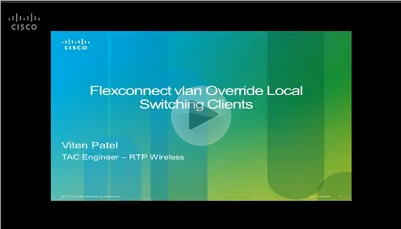 For More configuration details, please refer to FlexConnect VLAN Override section under Flex 7500 Wireless Branch Controller Deployment Guide.
Do Rate the Video.
2 Comments
You must be a registered user to add a comment. If you've already registered, sign in. Otherwise, register and sign in.