Cisco Employee
Mark as New

Mark as Read

Bookmark

Subscribe

Email to a Friend
When Cisco Live 2017 was Calling All Superheroes to the event in Las Vegas, behind the scenes, a team quietly made the best Wi-Fi experience possible while these IT professional attendees were sharing ideas on social media, sharpening their technical expertise in break-out sessions, watching product demos in World of Solutions, taking a break on work e-mails, and getting inspired by Cisco CEO Chuck's keynote speech broadcast. All attendees might have been oblivious to the fact that the Cisco Live Wi-Fi network worked with absolute reliability, handling ~18,289 concurrent devices and 35,442 unique clients at peak traffic, while ~10TB of data was transferred wirelessly (per day) for a total of 39 TB for the week!
Who are these the unsung heroes saving the day of Cisco Live experience yet again in Las Vegas? Meet the Cisco NOC (Network Operations Center) team. The team is made up of the best and the brightest of Cisco professionals from Advance Services, various Business Units, TAC, and Escalation teams. They are passionate about what they do and enjoy the thrill of living on the edge. The NOC team is usually one of the first in, last out Cisco teams at the venue.
Pre-planning phase consists of the NOC chief architect and core team architecting the network, which uses the latest products and balances new capabilities, with a risk of bringing it in a Cisco Live environment. Meticulous planning of each floor maps is done, keeping in mind the structure of the venue. Cisco access points are placed in Cisco Prime Infrastructure maps, RF antennas are aligned precisely, Cisco access point software is downloaded in advance, and switches are configured in Cisco labs. All of the equipment is shipped to the venue where a sheer number of equipment is present. Setups are rebuilt on-site the way it was configured in the Cisco labs.
The NOC team arrives to the venue a week or two ago in advance for deployment. They follow floor plans with AP positions that matched with the RF plan and AP names for ease of management. Site surveys were done to ensure that wireless connectivity for the attendees spread across Mandalay Bay Convention Center, MGM Grand, and the Bellagio resort campuses.
During the five days at Cisco Live, the NOC team keeps an eye on network health by continuously monitoring various network Key Performance Indicators (KPIs) using custom automation framework developed on Cisco applications. KPI includes average latency, throughput of data, server utilization, device reachability, AP Client load, Wireless Client distribution, wireless radio distribution, top allowed/blocked domains, and total traffic in/out with the Internet.
PNLNMS-1035 - Cisco Live Network and NOC: Panel Discussion (2017 Las Vegas) session presentation covers the latest technologies deployed, design and thinking behind various areas including wireless, routing, switching, data centers, remote monitoring for security, network management and automation, as well as the best practices followed at Cisco Live.
I had a privilege to be a part of the CMX (Connected Mobility Services) area of wireless NOC team this summer at Cisco Live Las Vegas. The NOC team was ready for the D-day as pre-planning and deployment were already done.
The first use case where the CMX location heat map showed the density of 5830 Wi-Fi users at Event Center during a keynote speech by CEO Chuck Robbins was on Day 1 of Cisco Live.
The second use case where the CMX Analytics Correlation widget shows the flow of attendees carrying Wi-Fi devices was from Mandalay Bay Convention Center registration area to IOT (42.5%), Cloud Village (29.8%), Devnet (26.1%), Security Village (26%) and so on.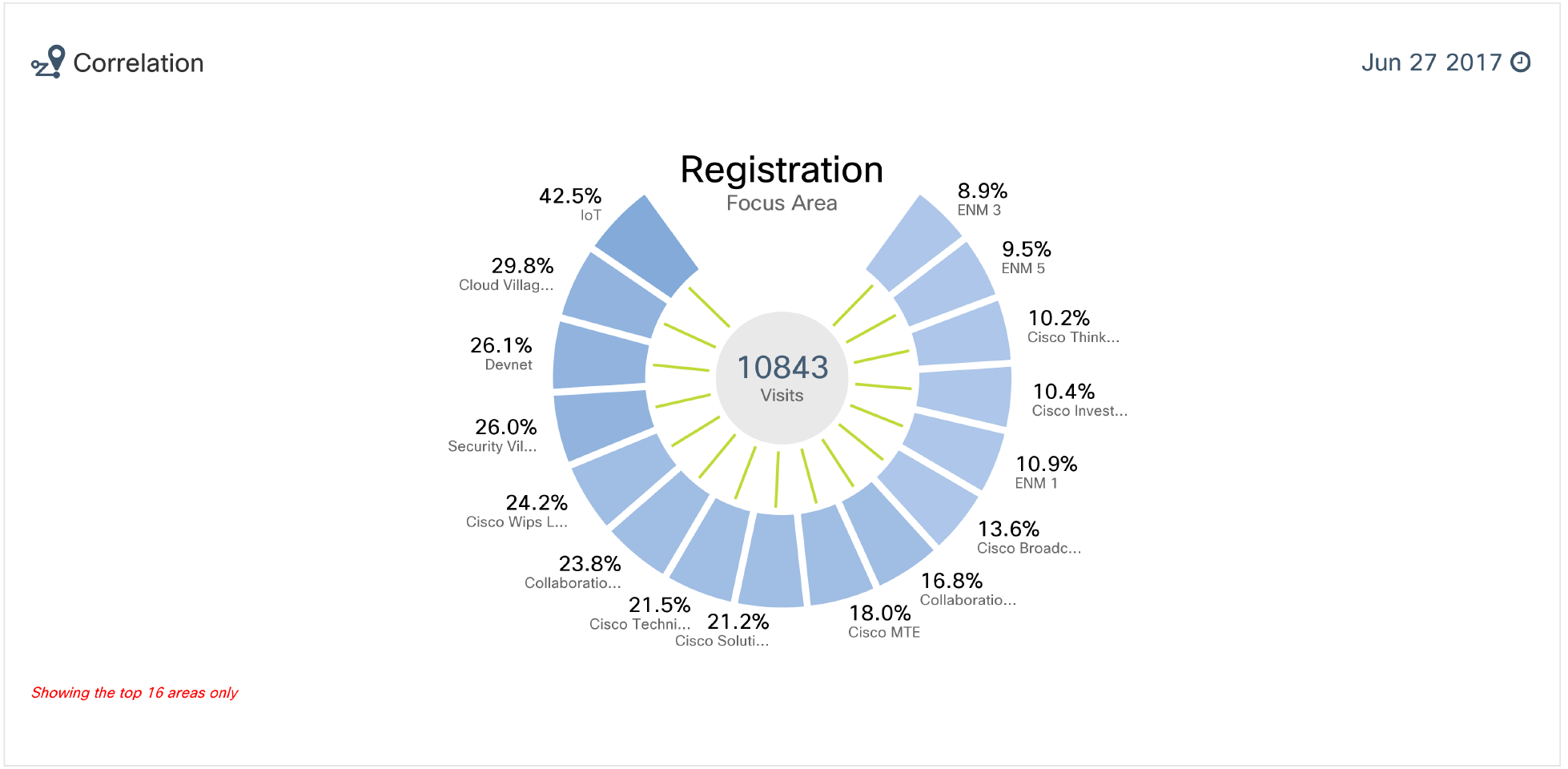 The last use case covers CMX at multiple campus level Wi-Fi user traffic pattern where 43.7% of people came from the MGM Grand to Mandalay Bay and 7.6% of attendees went to the Bellagio Resort.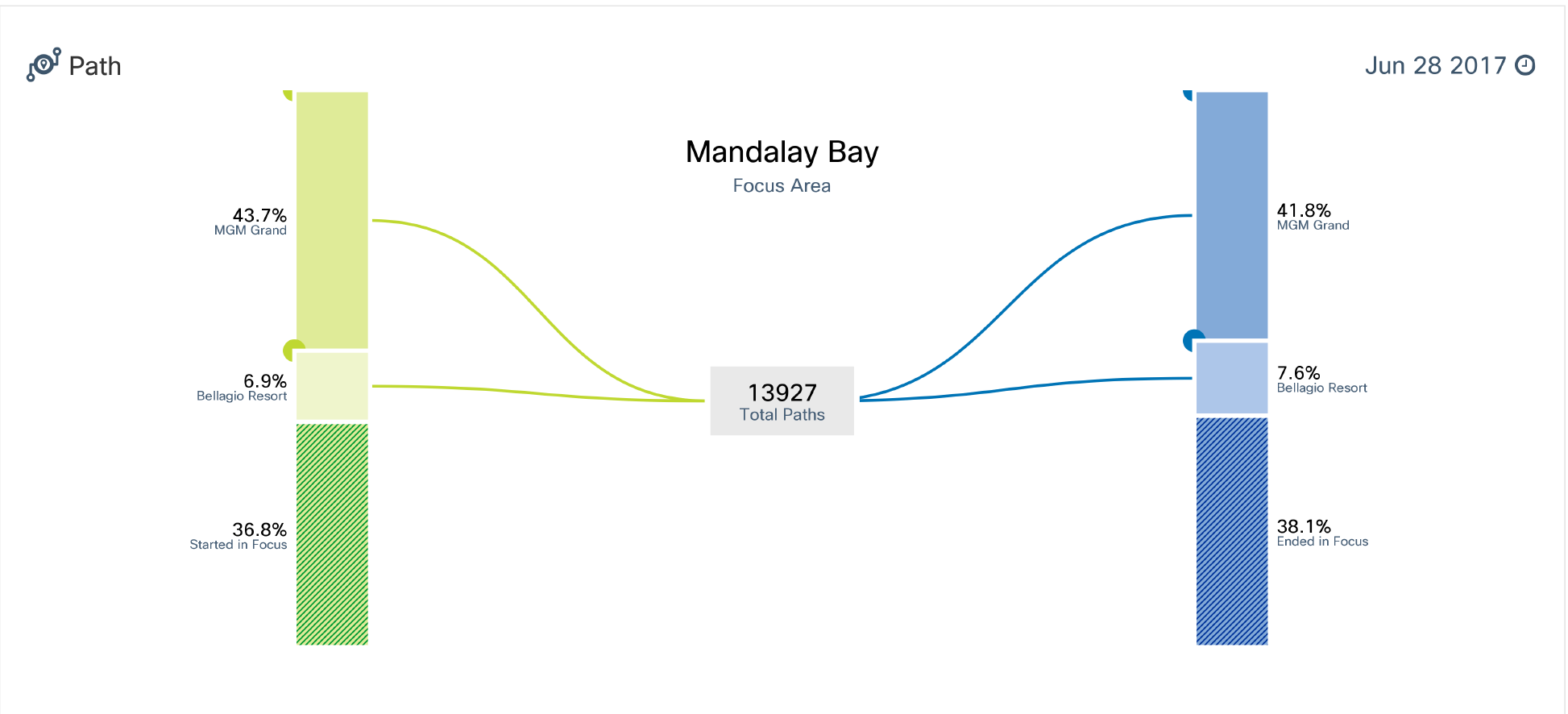 In summary, Cisco Live 2017 was a completely out of the world experience to see the Cisco Live wireless network inside out and Cisco CMX use cases at mega scale first hand.
You must be a registered user to add a comment. If you've already registered, sign in. Otherwise, register and sign in.