Rising star
Mark as New

Mark as Read

Bookmark

Subscribe

Email to a Friend
Debashree Jena is a Wireless Expert working in Cisco TAC. In this Video, Debashree has shown How to Upgrading Wireless LAN Controller (WLC) from 7.2 release to 7.3 release, Best practices and insights about the upgrade process. In this example she has used Flex Controller.
When you upgrade the controller's software, the software on the controller's associated access points is also automatically upgraded. When an access point is loading software, each of its LED's blinks in succession. Up to 10 access points can be concurrently upgraded from the controller.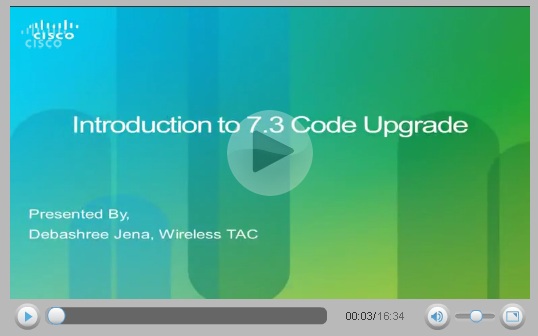 In this example we have shown the upgrade process using CLI and GUI.
For more detailed informaiton please refer to Upgrading to Controller Software Release 7.3.101.0 and Cisco Wireless LAN Controller Configuration Guide, Release 7.3 - Managing Controller Software and Configurations.
Upgrading to Cisco WLC Software Release 7.6.110.0
Guidelines and Limitations
Cisco WLC Release 7.3.112.0, which is configured for new mobility, might revert to old mobility after upgrading to Release 7.6, even though Release 7.6 supports new mobility. This issue occurs when new mobility, which is compatible with the Cisco 5760 Wireless LAN Controller and the Cisco Catalyst 3850 Series Switch, are in use. However, old mobility is not affected.
The workaround is as follows:
a.
Enter the following commands:
Primary Boot Image.................. 7.6.100.0
Backup Boot Image................... 7.3.112.0 (default) (active)
b.
After the reboot, press Esc on the console, and use the boot menu to select Release 7.6 .
c.
After booting on Release 7.6, set back the primary boot, and save the configuration by entering the following command:
Note
The epings are not available in Cisco 5500 Series WLC when New Mobility is enabled.
Note
If you downgrade from a Cisco WLC release that supports new mobility to a Cisco WLC release that does not support new mobility (for example, Release 7.6 to Release 7.3.x) and you download the 7.6 configuration file with new mobility in enabled state, the release that does not support new mobility will have the new mobility feature in enabled state.
If you have ACL configurations in the Cisco WLC and downgrade from a 7.4 or a later release to a 7.3 or an earlier release, you might experience XML errors on rebooting the Cisco WLC. However, these errors do not have any impact on any functionality or configurations.
When FlexConnect access points (known as H-REAP access points in the 7.0.x releases) that are associated with a Cisco WLC that has all the 7.0.x software releases prior to Release 7.0.240.0 upgrade to Release 7.6.110.0, the access points lose the enabled VLAN support configuration. The VLAN mappings revert to the default values of the VLAN of the associated interface. The workaround is to upgrade from Release 7.0.240.0 or a later 7.0.x release to Release 7.6.110.0.
When a client sends an HTTP request, the Cisco WLC intercepts it for redirection to the login page. If the HTTP request intercepted by the Cisco WLC is fragmented, the Cisco WLC drops the packet because the HTTP request does not contain enough information required for redirection.
A client whose home page is an HTTPS (HTTP over SSL, port 443) one is not redirected by Web Auth to the web authentication dialog box. Therefore, it is not possible for such a client to get authenticated, and eventually, fails to connect to the network. The workaround is for the client to open an HTTP (port 80) web page.
We recommend that you install Release 1.9.0.0 of Cisco Wireless LAN Controller Field Upgrade Software (FUS), which is a special AES package that contains several system-related component upgrades. These include the bootloader, field recovery image, and FPGA/MCU firmware. Installing the FUS image requires special attention because it installs some critical firmware. The FUS image is independent of the runtime image.
Note
The FUS image installation process reboots the Cisco WLC several times and reboots the runtime image. The entire process takes approximately 30 minutes. We recommend that you install the FUS image in a planned outage window.
Note
If you are using a Cisco 2500 Series controller and you intend to use the Application Visibility and Control (AVC) and NetFlow protocol features, you must install Release 1.9.0.0 of Cisco Wireless LAN Controller Field Upgrade Software (FUS). This is not required if you are using other controller hardware models.
After you upgrade to Release 7.4, networks that were not affected by the existing preauthentication ACLs might not work because the rules are now enforced. That is, networks with clients configured with static DNS servers might not work unless the static server is defined in the preauthentication ACL.
On Cisco Flex 7500 Series WLCs, if FIPS is enabled, the reduced boot options are displayed only after a bootloader upgrade.
Note
Bootloader upgrade is not required if FIPS is disabled.
If you have to downgrade from one release to another, you might lose the configuration from your current release. The workaround is to reload the previous Cisco WLC configuration files saved on the backup server, or to reconfigure the Cisco WLC.
It is not possible to directly upgrade to Release 7.6.110.0 release from a release that is earlier than Release 7.0.98.0.
You can upgrade or downgrade the Cisco WLC software only between certain releases. In some instances, you must first install an intermediate release prior to upgrading to Release 7.6.110.0.
Video Series - New Features introduced in Wireless LAN Controller 7.3 Release
You must be a registered user to add a comment. If you've already registered, sign in. Otherwise, register and sign in.