Rising star
Mark as New

Mark as Read

Bookmark

Subscribe

Email to a Friend
Madhushree Saroja is a Testing Engineer in Wireless Engineering Team. In this Video Series Madhu explains about the Virtual Wireless Controller (vWLC) Installation, Configuration and License Activation.
Until 7.3 releases, all Wireless LAN controllers (WLC) ran on a dedicated hardware. For example we have 5500 Series, 2100 Series,
2000 series WiSM on CAT6500 etc.
The virtual wireless LAN controller (vWLC) is software that can run on hardware that is compliant with an industry standard virtualization infrastructure.
Virtual Wireless Controller (vWLC) - Installation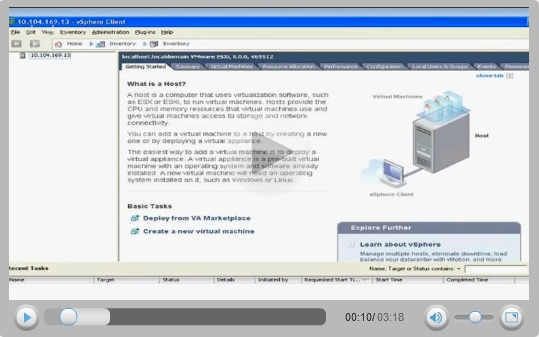 Virtual wireless LAN controllers provide flexibility for users to select the hardware based on their requirement i.e. VMWare,ESX and ESXi 4.x & 5.x version. The Virtual Controllers are NOT expected to replace shipping hardware controllers.
Virtual Wireless Controller (vWLC) - Configuration
Virtual Wireless Controller (vWLC) - License
NEW: Virtual Controller Release 7.5 Support
•Platform: AIR-CTVM-K9
•Hardware: Cisco UCS, HP and IBM servers, Cisco Services-Ready Engine (SRE) or UCS E-Series Servers for Integrated Services Routers G2 (UCS-E)
•VMware OS: ESX/ESXi 4.x/5.x
•FlexConnect Mode: central and local switching
•Licensing: Node locked licenses to UDI (eval 60 days)
•Maximum number of access points (APs): 200
•Maximum number of Clients: 3000
•Maximum number of sites up to 200
•Throughput performance up to 500 Mbps per virtual controller
•Management with Cisco Prime Infrastructure 1.2 and above
Virtual WLAN Controller Release 7.5 Unsupported Features
•Internal DHCP server
•TrustSec SXP
•Access points in local mode
•Mobility/guest anchor
•Multicast
Note FlexConnect local switched multicast traffic is bridged transparently for both wired and wireless on the same VLAN. FlexConnect access points do not limit traffic that is based on IGMP or MLD snooping.
•High Availability
•PMIPv6
•WGB
•VideoStream
•Outdoor mesh access points
Note Outdoor AP in FlexConnect mode is supported.
•Indoor mesh access points
•Application Visibility and Control (AVC)
•Client downstream rate limiting for central switching
Do Rate the Videos!
3 Comments
You must be a registered user to add a comment. If you've already registered, sign in. Otherwise, register and sign in.