edited on:

‎11-18-2020

‎02:55 AM
Introduction
To configure the Wi-Fi settings on Cisco Cius, use the keypad and menus to navigate to Settings > Wireless & networks >
Wi-Fi settings.
Configuring Cisco Cius for Wireless Settings
Configuring the Wireless LAN Settings:-
Use these guidelines to configure the wireless LAN network profile. Cisco Cius supports up to four remembered wireless LANs.
If unable to add a network, check to see if there are four remembered networks already, where one of those will need to be
deleted manually in order to add a new network.
Ensure that "Wireless" is set to "On". (Ensure WiFi is enabled in the Cisco Unified Communications Manager)
Either select the broadcasted Wi-Fi network or add the Wi-Fi network manually
If adding manually, enter the "SSID" for the voice wireless LAN, which is case sensitive.
Configure one of the following different 802.11 modes to set the frequency band.
(Auto mode will scan both 2.4 and 5 GHz channels and attempt to associate to the access point with a stronger signal if
the configured network is available).
Below are the available security modes supported and which key management and encryption types can be used for
each mode.
Security Mode
802.1x Type
Key Management
Encryption
| | | | |
| --- | --- | --- | --- |
| Open | N/A | None | None |
| WEP | N/A | Static | WEP (40/64 or 104/128 bit) |
| WPA/WPA2 PSK | N/A | WPA-PSK, WPA2-PSK | TKIP, AES |
| 802.1x EAP | EAP-FAST, PEAP | WPA, WPA2 | TKIP, AES |
WEP security mode requires that the static WEP keys be entered.
Key Style Key Size Characters
ASCII 40/64 5
ASCII 104/128 13
HEX 40/64 10 (0-9, A-F)
HEX 104/128 26 (0-9, A-F)
If selecting WPA/WPA2 PSK as the security mode, then a Pre-Shared Key must be configured.
Enter the ASCII or hexadecimal formatted password.
Key Style Characters
ASCII 8-63
HEX 64 (0-9,A-F)
• If selecting 802.1x EAP as the security mode, then a username (identity) and password must be configured.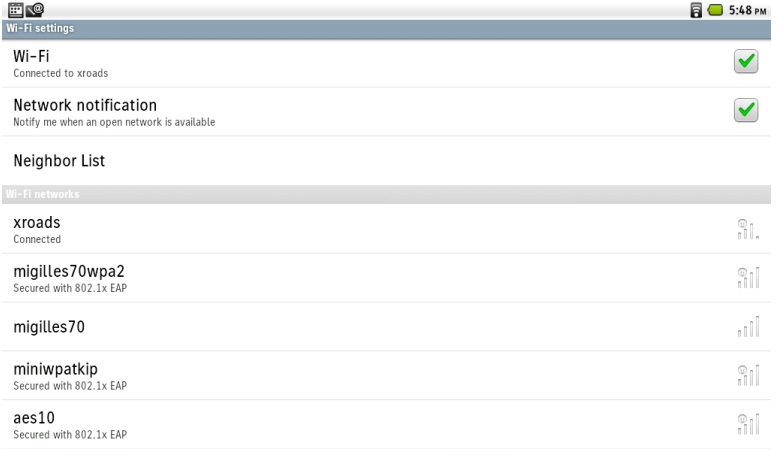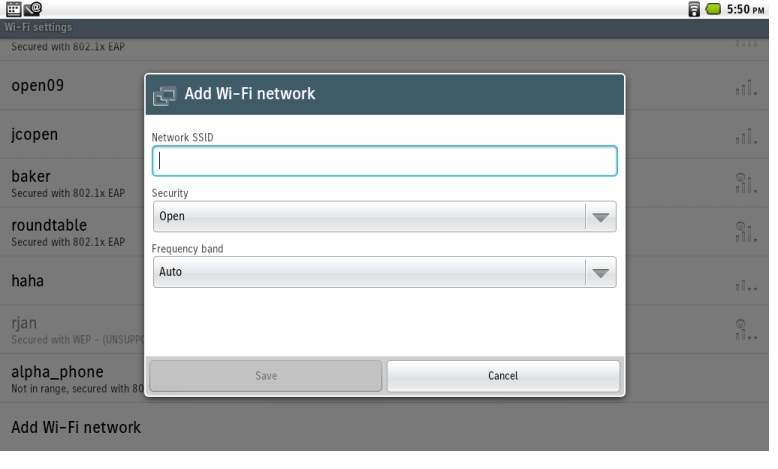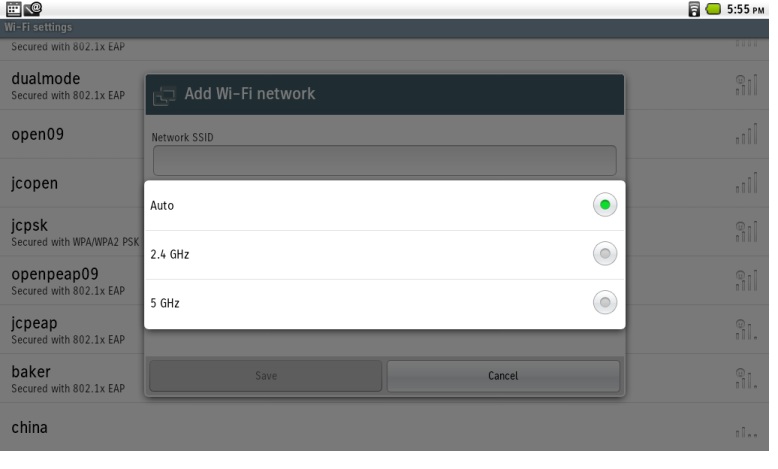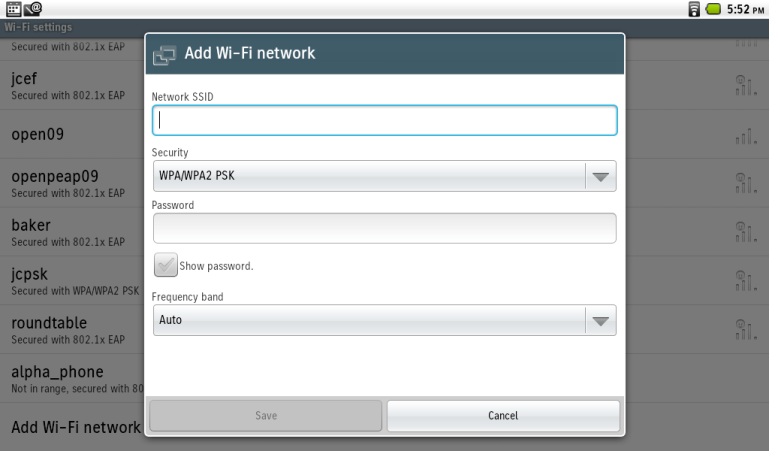 In the advanced menu of Wi-Fi settings, Dynamic Host Configuration Protocol (DHCP) or static IP settings can be
configured. To access the advanced menu, select the menu hard button (far left) to display the "Advanced" menu
option.
If DHCP option 150 or 66 is not configured to provide the TFTP server IP address via the network's DHCP scope, then
enable "Use alternate TFTP server" in TFTP server settings.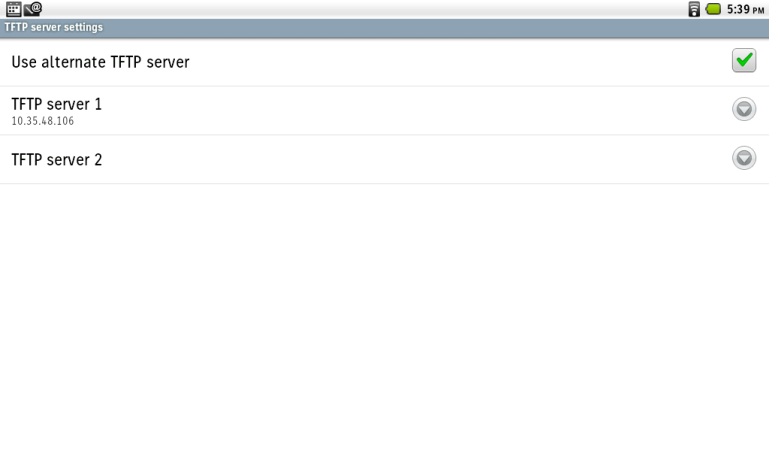 Network profiles can be removed by tapping on the network and selecting "Forget" or by selecting and holding the
network selection, where "Forget network" will be displayed.
Network profile parameters can also be modified by selecting "Modify network" after selecting and holding the
network selection.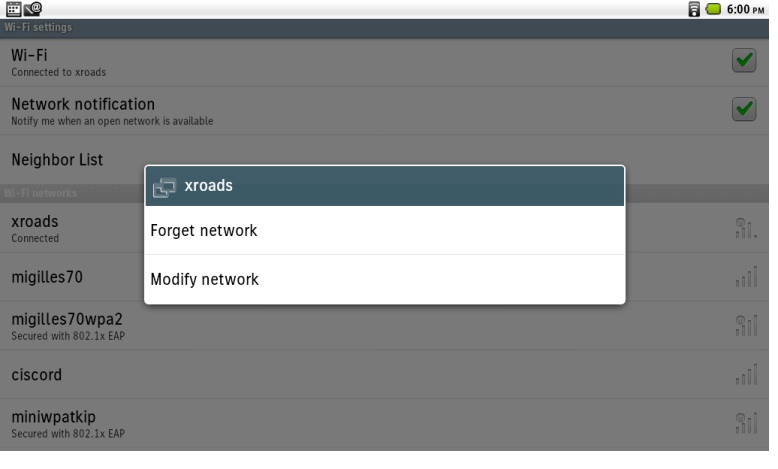 Note: CCKM will be negotiated if enabled on the Access Point when using EAP-FAST or PEAP.
WEP128 is listed as WEP104 on the Cisco Unified Wireless LAN Controllers. When Airplane mode is enabled, the Wi-Fi interface is disabled, but can be re-enabled optionally while still in Airplane mode. Shared Key authentication and 802.1x + Dynamic WEP are not supported.
For more information, refer to the "Configuring Settings on Cisco Cius" in the Cisco Cius Administration Guide