edited on:

‎11-18-2020

‎03:04 AM
Configuring wlan/ssid using Prime/NCS
1. On the web interface, under Configure > Controller Template Launch Pad > WLANs > WLAN Configuration > New Controller Template
Configure the template name along with the profile/ssid name and choose the interface you wish to map to it.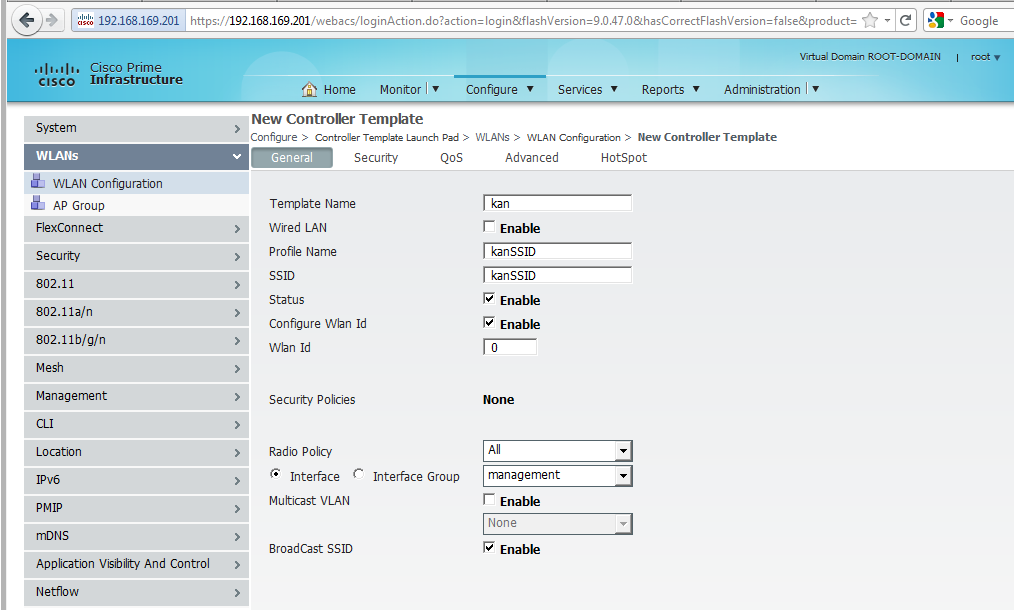 2. To define layer2/layer3 security on the ssid, click on the Security tab. You can define AAA servers to be used for the ssid under "AAA Servers" tab.
Similarly, to define QoS and WMM settings, click on QoS tab.
Flexconnect settings, session timeout for client connectivity, DHCP address assignment, access control application can be added from the "Advanced" tab.
3. Once the sssid is configured with all the required parameters, click on Save at the bottom of the screen.
4. You can now either save this template for future use or/and push this WLAN template and apply it to the controllers configured on the Prime

5. You have successfully created a ssid and applied it to the controller from prime. To verify the config, go to Configure>Controllers> select a controller.
You should be able to view the ssid under Properties > Settings >WLANs > WLAN Configuration
6. Alternately, for this controller alone you can create a ssid from this page by clicking on "create a wlan" from the top right corner on the screen and hit Go.