edited on:

‎08-23-2017

‎08:57 PM
Introduction
Enabling HTTPS for Secure Browsing
Resolution
Secure HTTP (HTTPS) is HTTP with Secure Sockets Layer (SSL) 3.0. HTTPS uses the SSL protocol to protect HTTP browser sessions. This feature supports an SSL or HTTPS method to manage Cisco Aironet Access Points (APs) through a Web browser.
When HTTPS is enabled, the browser can lose connection to the AP. If the connection is lost, change the URL in the address bar of the browser from http://ip_address to https://ip_address and log into the AP again.
Perform these steps to create an FQDN and enable HTTPS:
Note: When HTTPS is enabled, most browsers display a prompt for approval each time a device without a Fully Qualified Domain Name (FQDN) is accessed. To avoid the approval prompts, complete Step 2 through Step 9 in this procedure to create an FQDN for the AP.
1. Disable any popup-blocking feature that the browser uses.
2. Select Services / DNS.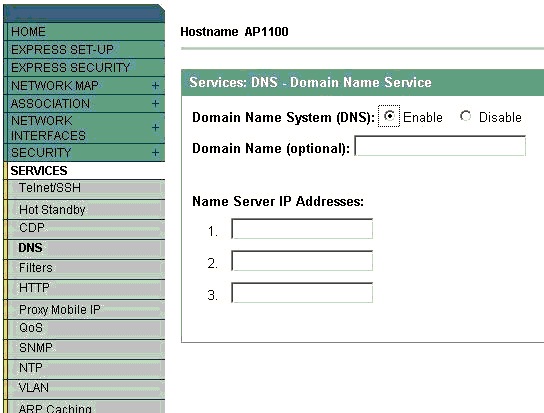 3. Select the Enable option for the Domain Name System.
4. Type the domain name of the company in the Domain Name field. For example, at Cisco Systems, the domain name is cisco.com.
5. Type at least one IP address for the DNS server in the Name Server IP Addresses entry fields.
6. Click Apply
7. Select Services / HTTP
8. Select the Enable Secure (HTTPS) Browsing check box.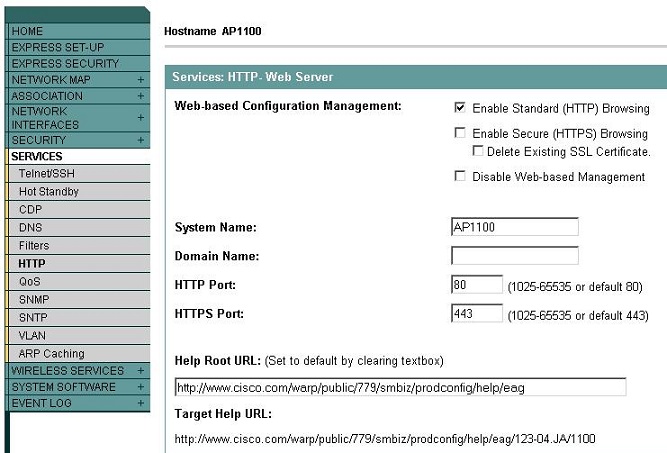 8. Type a name for the AP in the System Name field, and type the domain name.
9. Click Apply.
Note: Although both standard HTTP and HTTPS can be enabled simultaneously, Cisco recommends that only either one be enabled.
Problem Type
Configure / Configuration issues
Products
Bridge
Access point
Product OS
IOS
Device Access Method
GUI Interface
Reference
Enabling HTTPS for Secure Browsing