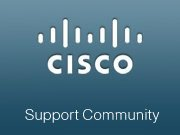 Community Manager
Ask Me Anything (Formerly known as Ask the Expert)
Mark as New

Mark as Read

Bookmark

Subscribe

Email to a Friend
thru
To participate in this event, please use the
button to ask your questions
This topic is a chance to discuss more about the foundation to understand how multicast works when using Cisco Wireless LAN Controllers (WLCs). In addition, experts will cover questions about the best practices to identify and troubleshoot common issues when multicast is not working properly on Cisco Wireless LAN Networks, from the clear symptoms and common scenarios to their unique challenges and the best practices to mitigate them. others.
Ask questions from Tuesday 19th to Friday 22th of November, 2019
Featured Experts


Estefania Pacheco
is a Technical Consulting Engineer on the Wireless team at the Customer Experience (CX) Center. She provides top-level technical support for worldwide customers using Cisco wireless products. Previously she worked as a Network Engineer with Cisco Advanced Services, solving customer challenges, compatibility issues, and reviewing network designs. Estefania holds a bachelor's degree in Telecommunications Engineering from the Universidad Nacional Autonoma de Mexico (UNAM). She holds a CCNP R&S certification.

Jhosbell Verdesca
currently works as a Customer Success Specialist focused on Enterprise Networks, Cisco DNA Center, and SD-Access. Before his current position, he worked as a Cisco Support Enginner for the Wireless Team at Cisco's Technical Assistance Center (TAC) in Mexico for three years. Prior to joining Cisco, he worked for three years with a Cisco Gold Partner in Venezuela, implemenenting and supporing solutions in the Routing, Switching, and Security areas. Jhosbell holds a bachelor's degree in Telecommunications Engineering from the Universidad Catolica Andres Bello (UCAB) in Caracas, Venezuela. He holds two CCIE certifications, one in Wireless and one in Routing & Switching (#58023).
Estefania and Jhosbell might not be able to answer each question due to the volume expected during this event. Remember that you can continue the conversation on the Wireless c
ommunity.
**Helpful votes Encourage Participation! **
Please be sure to rate the Answers to Questions