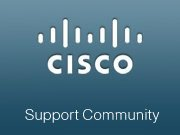 Community Manager
Community Live (Formerly known as Webcast)
Mark as New

Mark as Read

Bookmark

Subscribe

Email to a Friend
thru
Community Live- Understanding How Multicast Works with Cisco Wireless LAN Controllers

(Live event - formerly known as Webcast- Tuesday November 19, 2019 at 9 am Pacific/ 12 pm Eastern / 6 pm Paris)
This event had place on Tuesday 19th, November 2019 at 9hrs PDT
This session provides the foundation to understand how multicast works when using Cisco Wireless LAN Controllers (WLCs). In addition, experts covers the best practices to identify and troubleshoot common issues when multicast is not working properly on Cisco Wireless LAN Networks, from the clear symptoms and common scenarios to their unique challenges and the best practices to mitigate them.
The event includes a live demonstration that covers key concepts and best practices.

Internet Group Management Protocol (IGMP) vs. Protocol Independent Multicast (PIM)
Overview of PIM modes
Multicast on WLCs
Common scenarios
Demonstration
Featured Speakers


Estefania Pacheco
is a Technical Consulting Engineer on the Wireless team at the Customer Experience (CX) Center. She provides top-level technical support for worldwide customers using Cisco wireless products. Previously she worked as a Network Engineer with Cisco Advanced Services, solving customer challenges, compatibility issues, and reviewing network designs. Estefania holds a bachelor's degree in Telecommunications Engineering from the Universidad Nacional Autonoma de Mexico (UNAM). She holds a CCNP R&S certification.

Jhosbell Verdesca
currently works as a Customer Success Specialist focused on Enterprise Networks, Cisco DNA Center, and SD-Access. Before his current position, he worked as a Cisco Support Enginner for the Wireless Team at Cisco's Technical Assistance Center (TAC) in Mexico for three years. Prior to joining Cisco, he worked for three years with a Cisco Gold Partner in Venezuela, implemenenting and supporing solutions in the Routing, Switching, and Security areas. Jhosbell holds a bachelor's degree in Telecommunications Engineering from the Universidad Catolica Andres Bello (UCAB) in Caracas, Venezuela. He holds two CCIE certifications, one in Wireless and one in Routing & Switching (#58023).
For more information, visit https://community.cisco.com/t5/application-centric/bd-p/12206936-discussions-aci
This event is open to everyone, including students, instructors, Cisco customers and partners.
Do you know you can get answers before opening a TAC case by visiting the Cisco Community.
You must be a registered user to add a comment. If you've already registered, sign in. Otherwise, register and sign in.