Join us live on Wednesday, March 27 at 10:00 am PT Anand Oswal, SVP of Engineering, Enterprise Networking Business, and Prashanth Shenoy, VP of Marketing, Enterprise Networking and Mobility, discuss all things Wi-Fi 6, what's new, what's important, and wh...
Read More
Hello Team, We have several APs with multiple SSID (autonomous setup, no WLC). A video on demand (VoD) server is connected into the same switch and operating on the same Vlan. Video quality from media server is crystal clear when a laptop is connected to ...
Read More
CiscoSimple_EnableMyMobileWorkforce_10.11_Recording
Recording from the 10.11 Cisco Simple, "Enable My Mobile Workforce" webinar.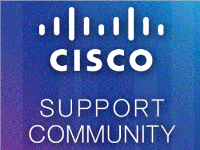 (view in My Videos) This event provides an overview about how to use the Wireless LAN Controller Configuration Analyzer (WLCCA) tool for the remote analysis of wireless networks. The WLCCA is a post-sale tool that helps to save time on the analysis of Wir...
Read More