Beginner
Mark as New

Bookmark

Subscribe

Mute

Email to a Friend
Cisco 2504 WLC paired with a few 'AIR-LAP1242AG-A-K9' access points.
Hello Cisco Community, (I am sorry if I am in the wrong section - this one sounded right.)
To start off I will explain my situation. I recently started a new job at this company to keep the network alive and well. The ones who originally set everything up are long gone and now i'm tasked with getting things operational and staying operational. I need assistance with today is an issue with getting our access point back up and running.
I have been cleaning the network room and decided to move the Cisco 2504 WLC to the rack mount to make it cleaner. This involved me unwittingly unplugging the WLC and then plugging it back up on the rack mount. I am pretty sure this is the moment where I may have caused something in the configuration to mess up. Later on that day I noticed the access points [AIR-LAP1242AG-A-K9] was no longer green light - they was red/orange/ and sometimes blinking different codes. I tried looking up these codes and it seems like each device is giving different codes.
I did a reset on the WLC and the AP's, but nothing seems to want to communicate properly. I tracked down that the AP's are setup to run into the server room and into a "Nortel BeS5OFE-24T PWR - Business Ethernet Switch". I assume they used this because on one-side it has all the Power-Over-Ethernet connections - while the other side has normal rj45 connections. All the AP's run into the POE slots and the connection to the WLC is on the normal side.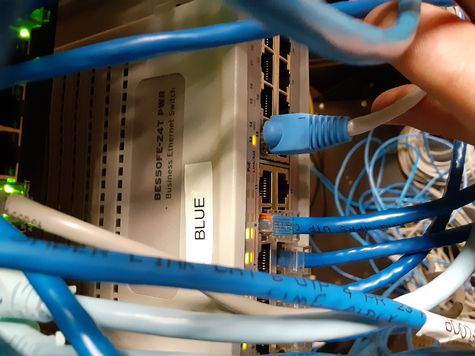 Then into the WLC: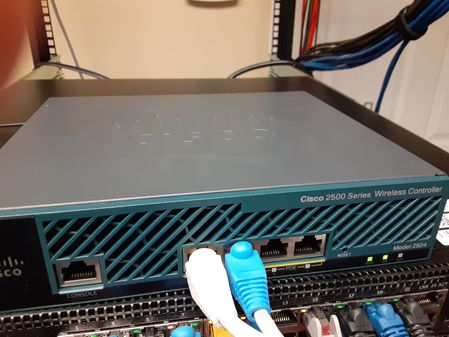 The biggest indicator to my problem is that after putty into the WLC,
(Thankfully after finding all the info on a piece of paper), is that when I type in the "Show AP Summary":
It seems I need to configure the AP's - but I am not 100% sure exactly how to do that - because I can't even console into them because I don't know the configurations that are already there.
I have tried quite a few things on the hardware end - this leads me to believe I need to do something on the software end:
- Switching the AP's
- Power cycling all the devices involved.
- Moving the AP and WLC to a different switch without POE. (using the power adapter instead)
- Changing the sources of the power.
As you can tell I am not that good at dealing with older Cisco AP's and WLC's.
My Cisco knowledge isn't that great - the most I have done is small stuff like setup vlans on Cisco switches.
Please if you can provide any assistance or any tips - please let me know.
Thank-you for reading.