Cisco 3850/3504/9120 slow mgig speeds
Options
Mark as New

Bookmark

Subscribe

Mute
‎07-26-2022 12:18 PM
Hi
Just bought an cisco 3850 with mgig and upoe, because i want more throughput on wired and wireless.
Got the 3504 and 9120 connected to mgig on the 3850, set the speed to 5000 on the 3504 via the 3850, also set the speed to 2500 on the 9120 via the 3850.
3850 was set to system mtu 9020.
9120 was set to 160mhz.
But i dont see any inprovement at all on wireless.
Did also just buy an 2.5g mgig NIC for my pc, but i only went from 1g to 1.5g.
All test were done using iperf3 running on my server connected with 10g to 3850.
I'm uploading configs for 3850 and 3504.
i'm also uploading pictures with my results from iperf.
Picture 1-2: iphone 12 mini iperf3 download and upload
Picture 3: Dell latitude e7270 with intel ax200
Picture 4: Fujitsu p420 with Asus PCE-C2500
Picture 5: HP z620 with intel x520 10gig (not mgig)
Best greetings from Christian Josiassen.

picture 5

picture 4
picture 1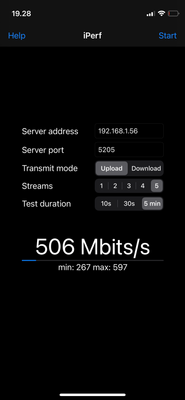 picture 2

picture 3