Cisco Mobility Anchoring Failover - Wireless
Options
Mark as New

Bookmark

Subscribe

Mute
‎07-19-2016 06:17 PM - edited ‎07-05-2021 05:27 AM
Hi All,
We are planning to do N+1 redundancy For anchoring the Guest access when the primary Anchor controller fails.
I did anchoring to all the DMZ ( External ) Controllers from my Foreign controller.
When i configured under SSID - Mobility Anchoring section, the Controller IP address are getting sorted and secondary controller ( other site ) are taking the first preferences than the site Anchoring controller.
Is there any way to break this lowest IP first principle in the Controller - by setting any priority / tracking ?
Regards,
Gan
Options
Mark as New

Bookmark

Subscribe

Mute
‎07-19-2016 08:18 PM
Since AireOS 8.1 onward this feature is available. Refer below URL
http://www.cisco.com/c/en/us/td/docs/wireless/controller/8-1/Enterprise-Mobility-8-1-Design-Guide/Enterprise_Mobility_8-1_Deployment_Guide/WirelessNetwork_GuestAccessService.html#pgfId-1146651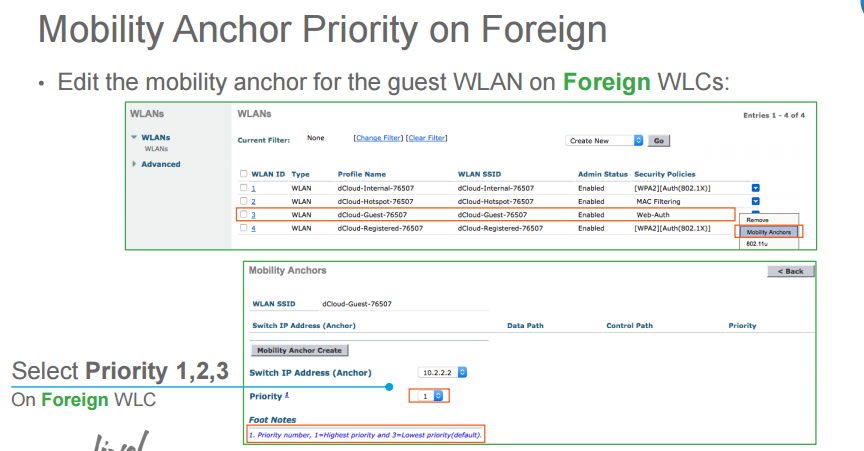 HTH
Rasika
*** Pls rate all useful responses ***