Options
Mark as New

Bookmark

Subscribe

Mute
‎08-11-2022 05:26 AM
Dear all,

Let me start with the Problem first.
Our customer is reporting a lot of Firewall drops on the Port 32626, from AP's to DNAC.
After some searching, reading documentation and so on, I found out this is the Intelligent Capture feature.

What I found out is that in the AP Join Profile the iCAP is disabled. And therefore should be applied to every AP.
But if I go into each AP it will have a setting of "Not Configured" and not "Disabled".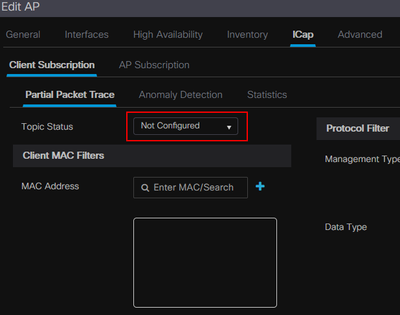 If I manually disable this in GUI, after a restart the setting will go back to "Not Configured".
But even with all of this set as "Disabled" I can still see the Access Points in the sh ap icap serviceability summary as "connecting".
(Although this could be the status of connection from DNAC to WLC and not the other way around.)
Also, there is no option in CLI to set it as "disabled" which could probably mean that the "Not Configured" and "Disabled" are one and the same.

Which now brings me to the question of how I can disable Intelligent Capture on the AP level since the above methods are not working?
The documentation doesn't show any command/button that disables Intelligent Capture on the AP's.
The goal is to not have any Traffic from AP in the direct direction to DNAC and with this also no Firewall drops.

WLC Version 17.3.4c
WLC Model: 9800-CL
AP Model: 9120AX

Any help would be appreciated.